You are here: Home page ► Watches ► Breguet Type XX
Introduction
The Breguet Type XX is a luxurious automatic sports chronograph, named after and inspired by the design of the original post-World War II "Type 20" French military wristwatches. It was introduced in 1994, and is still under production at the time of writing (2011).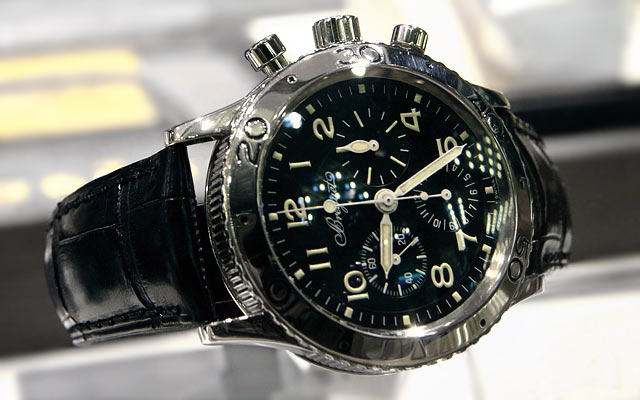 Modern-day Breguet Type XX 3800 Aéronavale
From a collector's viewpoint, there is more to the Type XX than just a watch; it also is a modest piece of horological history. Indeed, not only it is a fine chronograph made by Breguet—a watch company that has been operated for more than 200 years—but it also gives the opportunity to follow the firm's history throughout the second half of the 20th century.
Originally made for pilots, the Breguet Type 20 models can also be seen as a connection between Abraham-Louis Breguet (1747–1823) the horologist, and Louis-Charles Breguet (1880–1955) the engineer and plane manufacturer, his great-great-grandson. After all, somewhere in the 1960s, there must have been pilots flying a Breguet airplane while wearing a Breguet chronograph…
This article will discuss the history of the watch, starting with the vintage Type 20 chronograph; it will then focus on the modern Breguet sports watch, from its design to its movement characteristics. And, since this watch is made to be worn, it will be concluded with a concise owner's review.
The original Type 20 military chronographs
The importance of war time watches
The name "Type 20" refers to a specification issued by the French Ministry of Defense (called "Ministry of War" back then), describing a pilot's wristwatch as part of the aviator's standard equipment. Right after World War II, and after having used up their watch stocks (essentially composed of German, British and American surplus timepieces), the French army wanted to provide their airmen with reliable, accurate time instruments.
The French Type 20 watches were directly inspired by the German pilot's chronographs produced by Tutima-Glashütte and Hanhart, which had been primarily used by the air-to-surface fighters of the Luftwaffe (German air force).
Incidentally, in 1945, the French army occupied the German Black Forest, and captured the Hanhart factory located in Schwenningen am Neckar. From 1948 to the end of the 1950s, Hanhart had to provide the French air force with Fliegerchronograph parts, and maybe other equipment (like pocket watches for FFA artillery troops) as war reparations.
Other brands, like Stowa, were forced to face similar obligations, but this do not fall within the scope of this article. Maybe it's also worth mentioning that a few years earlier, in 1940, the Germans occupied the French horological center of Besançon, to make or repair watches for the German troops.
The French firm Vixa, which became one of the official Type 20 military suppliers, was the recipient of those German parts, and assembled them in France (possibly with the help of the existing Kiplé company, but I cannot find evidence of that).
The Vixa, though it looked a lot like its Hanhart "cousin", had some dissimilarities: its case was always made of steel, and its movement used some different parts, notably lacking a shock protection device.
As a side note, the famous German horological industry of Glashütte (including Tutima) fell into the Soviet occupation zone; machines and parts (and even some workers) were transferred to the First Moscow Watch Factory (1мчз им. Кирова, now Полёт) which quickly gave birth to the Kirova caliber 59 wristwatch. The First Moscow Watch Factory began production of the Победа watches in 1946 (I happen to own a recent Pobeda), and also manufactured the famous Штурманские (Shturmanskie) military wristwatch in the early 1950s.
The Flyback chronograph complication
Before the advent of electronic navigation, time measurement was crucial for pilots, as routes were determined by a series of directions and flight times. A chronograph, allowing precise measurement of time intervals, is the perfect tool for those tasks.
However, changing direction still involved three different operations on the chronograph: stopping, resetting, and re-starting. The faster the operation, the more precise the flight! In addition, the pilot should be able to concentrate on the flight itself, rather than on operating his watch. This demonstrates the need for a flyback function, which instantly restarts the chronograph with an accuracy within one fifth of a second.
Flyback chronograph simulation
Let us have a brief history of this invention:
English clockmaker George Graham is often referred to as the father of the chronograph, and created a laboratory clock which could be started and stopped, as early as 1720.
In 1776, the Swiss Jean-Moïse Pouzait comes up with the invention of a separate hand (called "seconde morte") which can be stopped and started while the movement is running.
Later in 1816, Louis Moinet created a surprisingly modern stopwatch with a central hand for the 60ths of a second, and subdials for seconds, minutes and hours.
In 1821, Nicolas Mathieu Rieussec, French King Louis Philippe's clockmaker, created what had long been thought as the world's first chronograph, used to record horse races times. As its name implies (chronos + graphein), it used actual ink to write the elapsed time on the dial.
The next major breakthrough comes with Adolphe Nicole, who claimed several patents in 1844, including one for a mechanism able to reset a hand. The heart-shaped cam, used to put the hand back to zero when pushed by a hammer, is still used nowadays.
In 1915, Breitling creates the first independent chronograph push-piece. Before that, the three chronograph functions (start, stop and reset to zero) were operated through the crown.

Gaston

Breitling, founder

Léon

Breitling's son, also had the idea of separating the stop/start and the reset functions in 1923, enabling the hands to be reset or stopped separately. This allowed adding time intervals at will. This led to another development by Gaston's son Willy Breitling: the invention of the second chronograph push-piece (in 1934), resulting in the modern wrist chronograph layout.
It did not take long until

Longines-Francillon

invented a form of flyback function, implemented in a chronograph with a single pusher, in 1936. While this breakthrough eliminated the need to reset and restart separately, the problem was that you could not stop the chronograph to read the time.
It needed the two inventions together to have the modern flyback function, as seen in the Type 20 watches. With just one push of a button (the lower one), you can stop-reset-restart the chronograph. To stop and read the duration, press the upper button.
The flyback function, being an important feature for military pilots, has been used by the armed forces of many countries. It is one of the key features found in the Type 20 requirements.
The Type 20 specifications
Most Type 20 watches share a lot of obvious similarities. They are black dialed chronographs, with luminous hands (most were using radioactive radium) and Arabic numbers. They house manual wind flyback movements, their diameter is in the 37 to 39 mm range, and they are equipped with a bi-directional rotating bezel.
There were also other types specified by the French Air Force, in terms of timekeeping equipment: for instance, the Type 11 (mono-pusher, non flyback) and Type 12 (flyback) were both aircraft dashboard chronographs. Only the official Type 20 and Type 21 refer to military wristwatches.
It is speculated that the requirements for a "Type 20" chronograph include:
a black dial, with two registers at 3 and 9 o'clock able to count up to 30 minutes;
a diameter of approximately 38 mm;
the flyback function;
a watch accurate to at least 8 seconds per day;
a power reserve of at least 35 hours;
the ability to operate satisfactorily at least 300 times.
Those specifications were possibly closely based on the design of the pre-existing German Hanhart chronographs.
Several watches were reviewed and homologated in the early 1950s. Please note that some production watches did not fully conform to these requirements, which were probably merely used as a basis for the study and approval of submitted watches, rather than as a hard rule, and were also probably written afterwards. Many aspects of the Type 20 production and maintenance did not actually follow the suggested processes. So do not be surprised to see peculiarities such as watches of larger diameters, different dial colors, absence of military markings, and even, in some cases, non-flyback movements… (Breguet has also produced 3 solid yellow gold models, though probably not for use by the military.)
And keep in mind that there are many faked-up Type 20 watches on the current market too!
Usage and service
In France, those watches were first used by the pilots and flight crew of the Armée de l'air (French Air Force), Marine nationale (French National Navy) and Centre d'essais en vol (French Flight Tests Center, often abbreviated as "CEV"). Back then, wristwatches were handed to the crew while still remaining the property of the army, just like any other piece of equipment (guns, airplanes, etc.).
Assuming you ever had to overhaul your vintage military timekeeper, it becomes clear that the upkeep of the mechanical watches represented a high maintenance cost for the government. In theory, the watches probably had to be overhauled every year (or every other year); their date of next scheduled maintenance can be found on the caseback, next to the letters FG (fin de garantie, which means "end of warranty" in French).
However, for the watches with "FG" marks, the dates stamped are usually between 1 and 6 years apart. So there is no evidence of a well-defined service schedule. The watches were probably overhauled when there was a breakdown or a malfunction, and possibly also when they had really been through too many days of active duty.
(Though they had a bad reputation for reliability, the Vixa chronographs do not seem to bear significantly more FG marks.)
Some of those watches were certified by the Cetehor, as advertised by three stars engraved on the case back. This may only apply to watches outside of the Armée de l'air (including, but not limited to, the civilian market). (At this point, I am not sure whether the Cetehor also repaired the Type 20 chronographs, or only controlled them.)
One theory says Dodane was in charge of the management of the stock of all the military Type 20 timepieces, and of the maintenance of all the military watches (except the Vixa models, serviced by the Péchoin workshop in Paris, usually evidenced by their P mark engraved on the case back).
Another theory says that the watches underwent their overhauls at the workshop of ARAA 624 in Ambérieu-en-Bugey (Ain) and/or the warehouse of EAA 602 in Romorantin-Lanthenay (Loir-et-Cher).
Main French localities in relation to the Type 20 production, sales and maintenance
Note that it is easy to know if a given watch has actually been used by the army: it has the relevant military engravings on the back side. Those markings may include the contract number and year, the part number, as well as the FG end-of-warranty dates in the case of the Armée de l'Air.
However, having no FG does not mean for sure that a given watch is a civilian one.
The manufacturers
Four different companies supplied the Type 20 chronographs to the armed forces: first Vixa and Breguet starting in the early 1950s, then J. Auricoste in the mid-1950s, then Dodane (who also sold watches under other names) starting in the early 1960s.
Note: this chapter is not meant to constitute a comprehensive listing of all Type 20 versions and variants. This would require a separate and lengthy article, based on much more documents than what I can have access to. You are still welcome to contact me with information and pictures, if you would like such a work to be started.
Vixa
Based on the Hanhart design and parts, Vixa produced between 4,000 and 5,000 pieces from the early 1950s until the early 1960s, which corresponds to the end of the Type 20 military orders.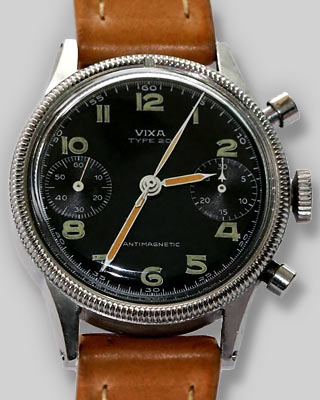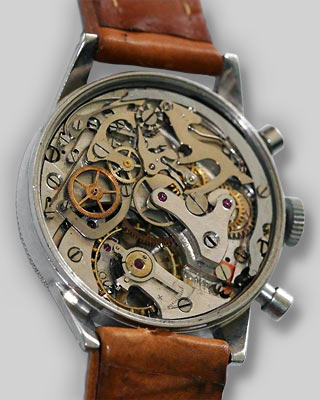 Vixa Type 20 (Photo credit: Geoffrey Grindon)
3 versions of this chronograph have been made during this period, and had a diameter slightly larger than the competitors. The Vixa uses a rotating milled/reeded bezel, similar to those of Hanhart and Tutima for the Fliegerchronograph.
General design features

Diameter of 39 to 40 mm; screw-in caseback.

Material

Stainless steel.

Movement

Hanhart-based, signed Germany.
It is suggested that the name Vixa was coined by a soon-to-be president of Timex France. The watches were maybe also assembled by Timex France (or Kiplé?) in Besançon. (I tried to contact Timex for confirmation in October 2010, but did not get a reply.)
Breguet
Breguet has been producing a handful of prototypes (one of which was notably acquired by Louis Breguet Aviation in 1952), until the company was commissioned to produce 2,000 "Type 20" chronographs by government contract in 1954. On the visible face of the caseback is generally engraved BREGUET / TYPE 20 / 5101/54, where the last 2 numbers are the contract number and the year (in 2-digit form).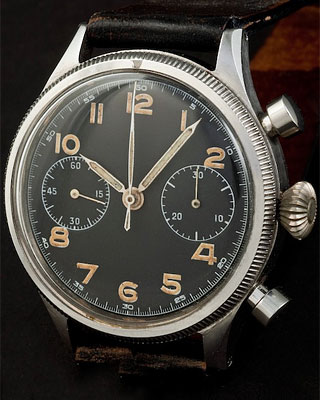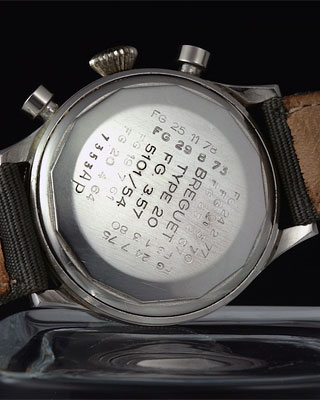 First generation Breguet Type 20 (Photo credit: Guiseppe Corcione)
At this time, and until 1976, Breguet was still headquartered in France. The Breguet company was founded in 1775 in Paris, and has been contributing a plethora of inventions to the world of horology. Their watches were usually directed towards the aristocracy, but were also noticed by a military clientèle; Breguet was appointed Watchmaker to the French Royal Navy in 1815, when extremely precise watches, known as chronomètres de marine, had to serve as a time reference during long travels. In those difficult times of the aftermath of World War II, Breguet could survive by producing timepieces for the French Army in larger batches.
However, Breguet's Type 20 production was subcontracted. The original Breguet Type 20, equipped with a Valjoux movement, was manufactured with a fine quality case made and assembled by Mathey-Tissot.
In conformance with the Type 20 specification, most Breguet Type 20 chronographs came with a 30-minute counter.
In 1958, the Aéronavale (short for Aéronautique Navale, the Aviation branch of the French Navy) asked Breguet to develop a specific version with a 15-minute chronograph display (instead of the 30-minute readout found in the more common Air Force model), which corresponds to the time necessary for the plane checkup before a flight. Those watches, delivered from 1960 to around 1962, have been produced to 500 pieces and bear specific case-back markings: Breguet Type 20, Marine Nationale, Aéronautique Navale and a number xxx/500. Moreover, the dial is signed, and the case holds an anti-magnetic shield.
The CEV also ordered watches with 15-minute readouts, and those watches have the relevant "CEV" markings on the case back. One order was made for 2-register chronographs, and one for 3-register chronographs. The 3-register CEV version, which sports an additional 12-hour register at 6 o'clock, was presumably made as a prototype to around 50 pieces.
On all those 15-minute chronographs, the minute display is larger and has 5 bolder luminous baton markers; this register style is specific to the Type 20 watches from Breguet (and… Mathey-Tissot, producing the same watches under its own name).
Designation

Breguet Type 20 (1st generation)

General design features

Diameter of 38.5 mm; 2 registers; dial unsigned; large crown ("pear"-shaped) to help operate with gloves; bezel with reeded sides and no numerals but a reference mark.

Material

Stainless steel.

Movement

Manual wind Valjoux 222 (2 registers, 30 minutes).
While the very first military Breguet Type 20 did not have any brand on the dial, civilian versions (with either 2 or 3 registers) did sport the Breguet logo.
Aeronautics companies, pilots, as well as civilians, could also source a Breguet Type 20 from the boutique in Place Vendôme, although these watches were possibly slightly different with regard to the crown, bezel and dial for instance (more evidence is needed here). The first watches sold in early 1953 (but possibly before), while the last one sold in 1989, not long before the third generation "Type XX" was reintroduced.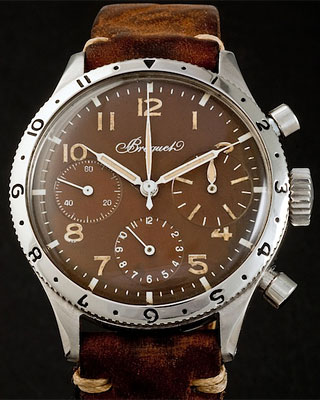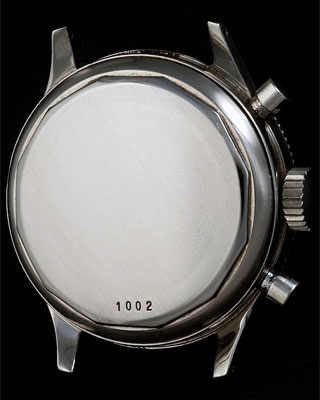 Civilian 3-register Breguet Type 20 (Photo credit: Guiseppe Corcione)
Rarer editions of this Breguet chronograph include:
6 pieces of a cream-dialed Type 20

in 1960

, with two subdials (60 seconds and 15 minutes), equipped with a Valjoux 222 flyback movement. It remains to be known if this was for the civilian or military market.
Breguet is also rumored to have produced 3 solid gold Type 20 chronographs.
A brown-dialed Valjoux 225 powered Type 20, labeled "CEV 1" (or "CEV no1"), was owned by the director of CEV, Louis Bonte.
Mathey-Tissot also produced Type 20 chronographs under its own name for the civilian market. Unsurprisingly, those watches are similar to the Breguet models, except that the dial, movement and case-back are signed Mathey-Tissot.
Auricoste
Auricoste, who had been producing "Marine Chronometers" and dashboard instruments since 1854, produced no less than 2,000 "Type 20" between August 1954 and March 1955 (under contract number 5090) for various army corps.
Recipients of this watch were the flight crew and the CEV. The French Auricoste Type 20 chronographs were later operated by the Argentine Air Force and by the Royal Moroccan Air Force, whose pilots were training in France. The Argentinean pilots actually wore those watches during the Falklands War against the United Kingdom in 1982 (and also operated French-built fighter aircraft).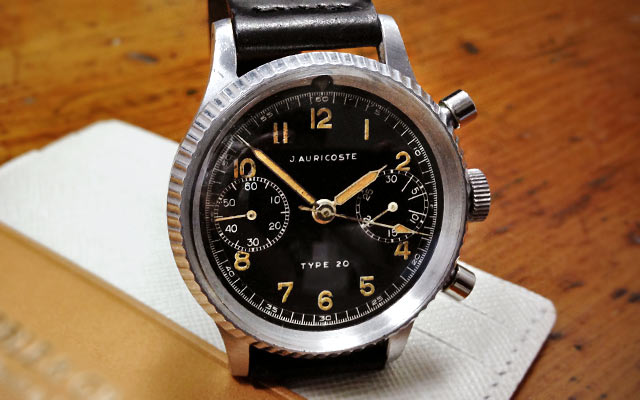 Auricoste Type 20 (Photo credit: Lester)
General design features

Diameter of 38 mm; bi-directional rotating bezel with internal arrow marker below the crystal, flat glass, snap-on caseback (although some rare screw-in caseback versions were later produced).

Material

Stainless steel (200 pieces for the CEV, engraved CEV/ST_BY), according to the CEV's own specifications; chromed copper (most common models, around 2,000 pieces);

a few pieces made in aluminum

. The casebacks are always made of stainless steel.

Movement

Lemania-based caliber 2040, signed Auricoste on the bridge.
The minute register features longer baton markers at 3, 6 and 9 minutes. Albeit not a requirement in the Type 20 specification, those are a generally seen as a typical feature of pilots chronographs, and represent respectively 5%, 10% and 15% of an hour. This is helpful for dead reckoning navigation, as ground speed is expressed in distance per hour. (However, you might agree that 15% of an hour does not represent an especially useful kind of information when it comes to such calculations.)
They could also come in handy for timing phone calls, back when they were charged in 3-minute intervals (called "conversation units").
Dodane
Dodane, located in Besançon, has been a specialist in aeronautics timekeepers since World War I. The company has also been making Type 11 and Type 12 dashboard chronographs.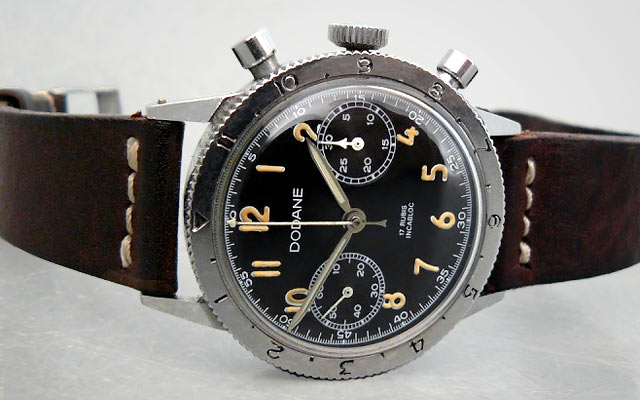 Dodane Type 20 (Photo credit: Fred)
Dodane was the biggest military chronograph producer with 5,000 pieces (counting both Type 20 and 21) assembled between 1954 and 1994. These were sold under the Dodane brand name, as well as others: Chronofixe, Chronofix Luxe, Chronographe Militaire (rumored), Dod and Iram (both of which may only have been stamped on the dial of confiscated Tutima-Glashütte chronographs, and where the original brand name is hidden behind by the stamped 3 stars of Cetehor), Airain and Airin.

Airain Type 20 (Photo credit: Lester)
General design features

Diameter of 37 mm; screw-in caseback.

Material

Stainless steel.

Movement

Valjoux

222, not signed.
The different chronograph movements
The movements found in those Type 20 watches are made, in alphabetical order, by:
Hanhart
The Hanhart caliber 42 (42-51), used in the 417 and 417ES wristwatches, is a close parent of the movement used by Vixa, which parts were given to France by the German company as war reparations after World War II. It was developed around 1948, and produced between 1957 and 1962.
In turn, the Hanhart is heavily inspired by the Landeron caliber 2 and caliber 3 from the 1920s, and uses many similar parts (sourced from common suppliers).
Note: this caliber family is sometimes called Hanhart 15, which may be incorrect and come from a confusion with the dimension of the caliber 42 (15½ lignes). I have also heard of the "Hanhart 4054" designation, but there seems to be no such number in the Hanhart nomenclature.
The movement in the Vixa is slightly different from the one in the Hanhart:
it is signed Germany on the main plate, right below the bridge, unlike the original movement found in the Hanhart watches (which is usually not signed, but may sometimes read Made in Germany or Germany Hanhart);
it is not equipped with a shock absorbing device, though

Hanhart

had been using an Incabloc shock protections since 1938;
all Vixa-mounted movements use a simple wire spring lever, whereas the Hanhart-mounted calibers can use a solid steel spring.
Movement characteristics: Both Vixa and Hanhart movements measure 15½ lignes (34 mm), have 17 jewels, and beat at 18.000 BPH.
Lemania
The movement used by Auricoste in their Type 20 chronographs is known as the caliber 2040, which appears to be a Lemania 15TL.
As far as I know, only Auricoste used the 2040 denomination for this movement, which is not part of the official Lemania nomenclature. Interestingly, however, one can see LWO (Lemania Watch l'Orient) engraved right above 2040 on the main plate, under the balance wheel.
The Auricoste/Lemania 2040 (Lemania 15TL) is possibly the finest grade movement used in a military Type 20, and will be discussed more in-depth in a following paragraph regarding the Breguet caliber 582's family tree.
Movement characteristics: 17 jewels, 15 lignes, column wheel (9 teeth), 2 registers (30 chronograph minutes, running seconds).
Valjoux
The most common Type 20 movement is clearly the Valjoux 222, which is a modified Valjoux 22 (one of the very first wristwatch chronograph movements) with flyback complication. This is a very sturdy movement, but its spare parts are becoming hard to find. It was used by Breguet and Dodane in the military field.
Many Valjoux movements and variants have been used in this series of military watches. (The movement number is usually engraved on the main plate, under the balance wheel.)
The Valjoux 222 is the Valjoux 22 with added flyback function.
Movement characteristics:

2 registers

(30 minutes, 60 continuous seconds), flyback, 14

lignes

(31.6 mm), 17 jewels, 18,000 BPH, column wheel (9 teeth), Breguet overcoil hairspring, anti-shock, screwed balance ring.

Apparently, at the request of Breguet, Valjoux made a version of this movement with a 15-minute register. This version was only used by Breguet.


The Breguet version of the Valjoux 222 is quite different, as it does not have a Breguet overcoil, nor an anti-shock device.

It may actually be a Valjoux 22 re-engineered by Breguet to add the Flyback function (which is rather odd).

This would also explain the lack of hairspring protection on those Breguet-fitted movements.
The Valjoux 225 is a Valjoux 222 with a third sub-dial: the hours register.
Movement characteristics: 3 registers (

30 minutes

, 12 hours, 60 continuous seconds), flyback, 14

lignes

, column wheel (9 teeth). More first-hand information would be appreciated.
The Valjoux 231 is a rare movement

only used by Dodane, in their Type 21

. It has been produced to around 200 pieces. However,

I see no obvious difference between the Valjoux 231 and 235. Maybe the flyback lever is different; maybe the beat rate differs; anyhow, more research is needed.

The Valjoux 235 is a

flyback version of Valjoux 23

. It was used in the Dodane Type 21. 1,580 pieces were made, according to

Ébauches SA

archives.
Movement characteristics: 2 registers (30 minutes, 60 continuous seconds), flyback, 13

lignes

,

17 jewels

,

21,600 or 18,000 BPH (probably 21,600, but there are different beat rates among the Valjoux 23 family)

, column wheel (9 teeth), annular balance (without screws).
The Valjoux 720 may have been used by Dodane; however, there is no sufficient evidence of its existence.
The Valjoux 725 is the flyback version from the Valjoux 72 family, and comes with a faster beat rate. It was produced in the first half of the 1970s, until the Quartz revolution. Its minute register

is usually 30 minutes, but can be 15 minutes in the 2nd generation Breguet Type 20

. 1,400 pieces were made according to

Ébauches SA

archives.
Movement characteristics: 3 registers (12 hours, 30 minutes

or sometimes 15 minutes

, 60 continuous seconds), flyback, 13

lignes

, 17 jewels, 21,600 BPH, column wheel (9 teeth), flat balance spring.
The Type 21, and the Type 20 successors
The makers
The "Type 21" program was defined in April 1956. It was, as the name implies, the successor of the Type 20, consisting of a minor evolution of the specification. Those newer chronographs would have to be developed with a more modern movement, which would be more reliable, and less expensive to maintain. In addition, the accuracy and water resistance had to be improved.
It has been suggested that this program was rolled out in order to rationalize the repair costs of the military timekeepers. However, we can notice that many of the same movements were used for the Type 21 and the Type 20. Manufacturers had only 2 months to make offers, which sounds quite short; so this may be consistent with the idea that existing products would be suitable as Type 21. So, what really happened? One supposition could be that the Type 21 program was destined to eliminate the Vixa watches, whose movement was more fragile in essence. Also, considering that this specification was written as early as 56, there was obviously a very short experience feedback of the Type 20 watches…
All military Type 21 chronographs sport a bezel graduated backwards in hours (to be used as a countdown), whereas the Type 20's bezel could have either a reeded bezel with reference mark, or graduated in hours or minutes (backwards). The Type 20 and Type 21 share a lot of common features nonetheless, like manual wind flyback movements, two pushers, black dials with Arabic numbers, and a rotating bezel. Both also have similar dimensions, with a diameter comprised between 37 and 39 mm (without crown).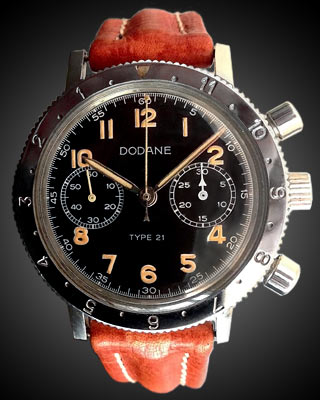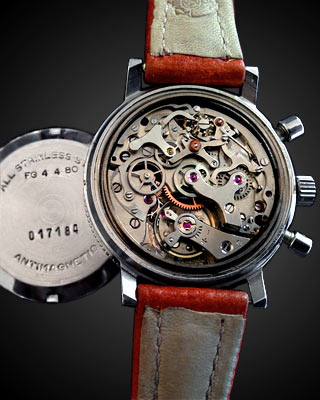 Dodane Type 21 (Photo credit: watchfred)
Since the demand has been small, Dodane was eventually the sole official supplier of Type 21 timekeepers to the armed forces. Those chronographs are powered by Valjoux movements.
The next generation of military watches
Curiously, the Type 21 wristwatches produced by Dodane for the CEV in 1969 had a stock Valjoux 235, therefore with 2 subdials and a 30-minute chronograph register, instead of the 15-minute register they had been ordering from Breguet a few years earlier.
In the 1970s, Breguet submitted a proposal to this call for tenders for the next generation military chronographs, but it seems that their products were deemed too expensive. Breguet was therefore not appointed as a Type 21 supplier.
The actual watch involved corresponds to the "second generation" Type 20 Breguet chronograph, with its polished case and black bezel. This chronograph also had a flyback manual wind movement, and was produced from the 1970s to the 1980s.
There is very few information about those pieces being used by the military, as there were probably less than half a dozen of such pieces put into service in the first half of the 1970s.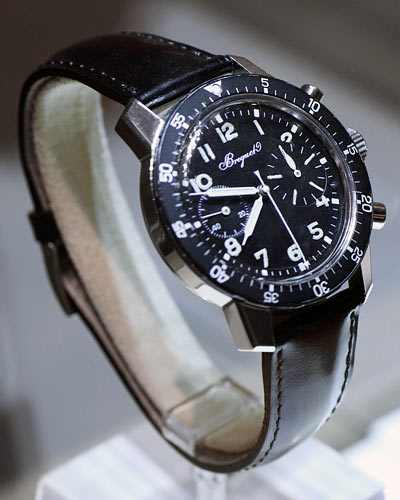 1970s Breguet Type 20, displayed at Musée Breguet
The 1970s Breguet Type 20 has a screw-in case-back, a diameter of 40.7 mm, a thickness of 13.8 mm, and comes with 2 or 3 registers on a matt black dial. It houses a Valjoux 725 movement (and maybe Valjoux 726 in some cases).
In the 1970s, Auricoste made a watch with chromed case and Bakelite rotating bezel, still with the Caliber 2040.
In 1973, the Paris-based Fernand Péchoin workshops supplied a set of prototypes using Valjoux movements, some labeled Type 21 (5 pieces) and some labeled Type 22 (50 pieces); but neither was officially accepted by the armed forces.
And then, the Quartz revolution came along…
Since that time, chronographs from many manufacturers have been tested, and small procurements have been made. The Type 20 watches were still used by the crew of the French Air Force through the 1980s, and were then replaced by commercially available quartz models, among which Yema quartz chronographs (albeit not the most popular model amongst pilots), Breitling Pluton wristwatches (in service in the Marine Nationale, and maybe others), Pulsar quartz (which was the last watch issued as standard military equipment), and, of course, the ubiquitous Casio G-Shocks.
(The CEV has been experimenting with Breitling Premier chronographs in the 1960s.)
The Type 20 chronographs are no longer officially used in the military domain; though some pilots from the Marine nationale and the Armée de l'air have been wearing their Breguet Type 20 for long after its discontinuation.
Interestingly, French military pilots are still trained to use their watch (along with compass and ICAO map) to follow flight paths, in order to be prepared to navigate by themselves in case of a global positioning system breakdown, or inertial measurement unit failure.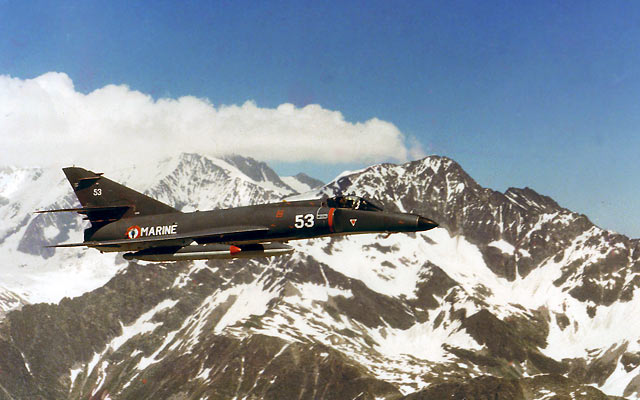 Dassault-Breguet Super Étendard operated by the Aéronavale
Militaria, nostalgia
Breguet was not the only watch manufacturer to revive this mechanical chronograph in the 1990s–2000s.
Dodane 1857 has designed a modern 41.5 mm chronograph named Type 21, based on the ETA 2892 movement with Dubois Dépraz 42021 module (3-subdial model) or 42022 module (2-subdial model) visible through an exhibition caseback.
The Vixa name has been used by different entrepreneurs. Some watches branded "Vixa Uhren Fabrik" have been produced (despite Vixa being a poor name in German); at some point, its rights were acquired by the perplexing Italian group Griggio. Anyway, the new Vixa has been producing a 42 mm watch called Type XX (or sometimes Type 20) with two registers and one lower red chronograph push-piece (à la Hanhart), optimistically priced at 5,200 EUR in 2010 (whereas other Vixas Type 20/21 go for around 1,000 to 1,300 EUR new). There also is a 42 mm chronograph called Type-20 with 3 registers and red hands (with the inscription Reliable air force edition, official master chronograph), presumably with ETA 2893-2 with a Dubois Dépraz chronograph module, without display back. It was probably discontinued as a 42 mm Type-21 légion étrangère, with two subdials, took its place (this time based on the ETA 2824 movement with Dubois Dépraz 2025 chronograph module, visible through the display back). Vixa also makes a watch with a case very closely inspired by the modern Breguet Type XX (with a Valjoux 7750 movement), which could qualify as "homage", as part of a wide range of military style watches; I will not try to look further into this.
Since 2008, Auricoste is producing a two-subdial 42 mm "Type 20" with flyback, based on a Dubois Dépraz 42021 movement. The text on its dial is rather puzzling: Certifié retour en vol (French for "flyback certified"), which raises the question of which organization is responsible for certifying flyback movements…
Airain produces a watch which owes much to the Type 20.
Aside from the Type 20s, in 1997 Hanhart also re-issued its 1939 Primus Fliegerchronograph, named Pioneer Caliber II, with Valjoux 7760.
As a word of general caution, one should mention that the historical and horological legitimacy of some of those brands, recently resurrected after having gone bankrupt, is sometimes questionable. The Type 20 has gained a lot of attention over the past years, and many sellers know that there is money to be made.
The modern Breguet Type
XX
Fast forward to the 1990s: Breguet introduces a new sports watch line-up with the modern "Type XX" automatic chronograph with flyback.
There have been several variations on this watch, which came in two main breeds: the Aéronavale since 1994, and the Transatlantique introduced in the late 1990s and discontinued in 2015.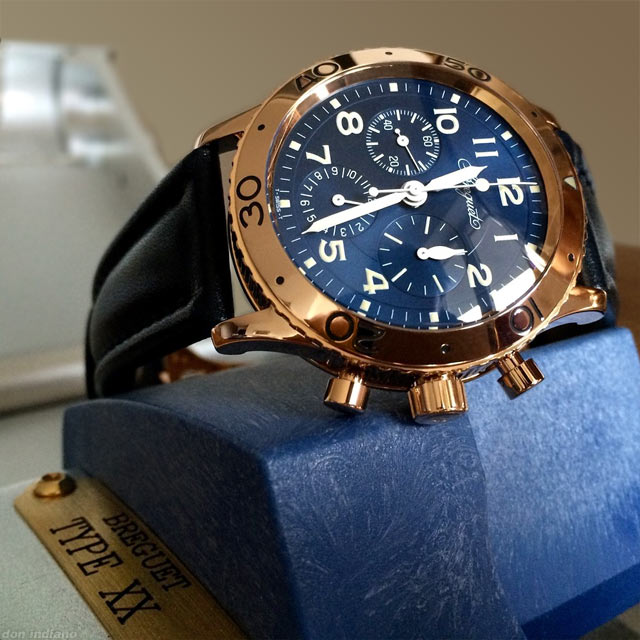 Breguet Type XX in red gold (Photo credit: Henrik Schwiening)
Please note the distinction between "Type 20" (written with Arabic numerals), the post-World War II French military watch specification, and "Type XX" (with Roman numerals), the model name of this modern Breguet chronograph. They should both read Type twenty (or type vingt in French).
The different models
To put it in a nutshell, the Transatlantique has a date window (at 6 o'clock), while the Aéronavale has no calendar. However, it took me some time to figure out all the differences between the Aéronavale and the Transatlantique models. Those will be explained in this paragraph (and even more in-depth afterwards).
The stainless steel men's Type XX actually comes in several flavors, in chronological order of appearance:
3800

Aéronavale

with no date, polished bezel, multi-layered matt black dial and polished bracelet;
3820

Transatlantique

with date at 6 o'clock, circular brushed bezel, glossy black dial and brushed/polished bracelet;
the special issue 3807

Aéronavale

with no date, exhibition caseback, polished bezel, glossy dark Cobalt blue dial and polished bracelet, made in 1998 to 2,000 pieces;
3860

Transatlantique

Réveil, with alarm, date at 6 o'clock, circular brushed bezel, glossy black dial and brushed/polished bracelet;
the special issue 3803

Aéronavale

with black lacquered bezel and matt black dial, made in 2010 to 1,000 pieces, in commemoration of the 100th anniversary of the French naval aviation.
To this, let us add the men's non-steel models:
3800BA solid yellow gold Aéronavale, a rare model with black or dark blue dial.
3800BR solid rose gold Aéronavale, a rare model with dark blue dial.
3800PT platinum Aéronavale with black dial, as a limited edition of 100 pieces (made in 1994).
3820TI titanium Transatlantique with a black carbon fiber dial. (Carbon fiber and titanium are high-tech materials widely used in the aviation industry.)
3820BA/BB/BR solid gold Transatlantique (proposed in yellow gold, white gold and rose gold) with deep blue, black or white dial.
3820PT platinum Transatlantique with blue dial.
3827PT platinum

Transatlantique édition limitée

with a salmon dial and display back (limited edition of 90 pieces).
Besides the men's watches, there is also a more compact Type XX ladies model, which reference numbers are 4820 (4820ST where ST stands for "steel") with full stainless steel bezel, and 4821 with the diamond bezel. Its design is quite similar to the 3820 Transatlantique, but with a different subdial layout (the seconds subdial is at 6 o'clock, and the elapsed hours at 9). This chronograph comes with either black, silver/cream or blue dial. A mother-of-pearl dial and a diamond bezel are possible options. Its diameter is 32.5 mm (without crown), and its thickness is 11.8 mm. Thanks to a water resistance of 100 m, it is a very functional automatic ladies' timepiece.
Additionally, a faithful reissue of the original Breguet Type 20 was made for the Only Watch charity auction in 2019, using a 2-register Valjoux 235 movement. It has the reference number 2055ST/Z5/398, and is a unique piece.
Please note that the reference number 3810 stands for the Breguet Type XXI, a larger 42 mm chronograph introduced in 2004, which incidentally also was the 50th anniversary of the Type 20. It uses the 584Q movement with central chronograph minute's hand (like the Lemania 1340 and the Lemania 5100) and has a 24-hour indicator. The words Retour en vol, prominently written on its dial, mean "Flyback" in French. Despite what its name suggests, the Breguet Type XXI has no special relation to the French Type 21 military specification.
The Type XXII (reference 3880) was introduced in 2010, and supports the theory that Breguet's lineup of sports watches is likely to expand.
The Breguet Type
XX
Réveil
In 1998, Breguet produced a limited version of the Type XX fitted with an alarm movement and presumably called "Type XX Transatlantique Réveil" (which means alarm clock in French). This model has no chronograph, but two crowns and a date window at 6 o'clock. The bottom crown is used to adjust the inner alarm disc. It has the same case design as the Transatlantique, with a brushed bezel and glossy dial. It is also known as the reference 3860, and made in either steel or gold.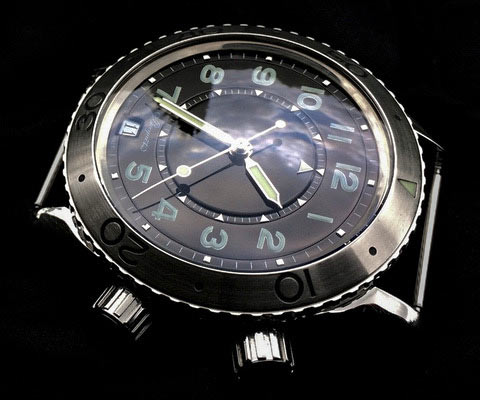 Type XX Réveil (Photo credit: Henrik Schwiening)
According to a Breguet correspondence, this limited series of 500 pieces used the same movement as the Classique Ref. 3600 from 1992–1993, namely the Breguet 579 (based on the Lemania 2980 / Lemania SL 980), although its alarm indicator only shows the hours while that of the Classique has the minutes and the hours. This caliber has automatic winding for both the time and the alarm.
Synopsis of different models
Tentatively, here is a list of all the different models of Type XX and their variants.
Observation of the different models of Type

XX

Reference, model name
Case material
Caliber
Dial / Breguet logo
Hour numerals / Hour markers
Hands finish / Bezel finish
Crown
Swiss Made indication
Peculiarities
3800ST

Aéronavale

Stainless steel
582 (no date)
Matt black /
Non serifed, lumed / Lumed
Painted (white) /

Polished

Yellow gold capped
SWISS
The minutes' chronograph subdial has Arabic numerals at 5, 15 and 25 minutes.
3800ST

Aéronavale

Stainless steel
582 (no date)
Matt black /
Serifed, lumed / Lumed
Painted, white / Polished
Yellow gold capped
SWISS
Early Aéronavale, with yellow gold capped crown. Water resistant to 200 m.
3800ST

Aéronavale

Stainless steel
582 (no date)
Matt black /
Serifed, lumed / Lumed
Painted, white / Polished
Same metal as case
SWISS
Now marked as water resistant to 100m.
3800ST

Aéronavale

Stainless steel
582 (no date)
Black, matt /
Serifed, lumed / Painted, lumed
Painted, white / Polished
Same metal as case
SWISS or T-SWISS-T
Later generation Aéronavale, with newer logo.
3800BA

Aéronavale

Solid 18k yellow gold
582 (no date)
Black /
Non serifed, lumed / Painted, lumed
Painted, white / Polished
Same metal as case
SWISS

Limited to 150 pieces

. The minutes' chronograph subdial has Arabic numerals at 5, 15 and 25 minutes. Bezel is uni-directional.
3800BA

Aéronavale

Solid 18k yellow gold
582 (no date)
Dark blue /
Serifed, lumed / Painted, lumed
Painted, white / Polished
Same metal as case
T-SWISS-T
This version replaced the first 3800BA with uni-directional bezel.
3800BR

Aéronavale

Solid 18k rose gold
582 (no date)
Dark blue /
Serifed, lumed / Painted, lumed
Painted, white / Polished
Same metal as case
T-SWISS-T
The solid gold Aéronavale was produced for a limited time, until the gold models were all shipped with the date movement.
3800PT

Aéronavale

Solid 950/1000 Platinum
582 (no date)
Matt black /
Non serifed, lumed / Lumed
Painted, white / Polished
Same metal as case
SWISS
The minutes' chronograph subdial has Arabic numerals at 5, 15 and 25 minutes. Bezel is uni-directional.
3803ST

Aéronavale

Stainless steel
582 (no date)
Black /
Serifed, lumed / Painted (lume)
Painted, white / Black, embossed (numerals every 5 minutes)
Antique style (conical)
SWISS
Limited to 1,000
3807ST

Aéronavale

Stainless steel
582 (no date)
Cobalt blue /
Serifed, painted, gray / Painted, lumed
Polished / Polished
Same metal as case
T-SWISS-T
Exhibition case-back. Numerals and logo are gray.
3820ST

Transatlantique

Stainless steel
582 Q (with date)
Black, glossy /
Lumed, non serifed / Applied, polished
Polished / Brushed (circular)
Same metal as case
SWISS or T-SWISS-T
Maybe a dial with serifed numerals and lumed markers (SWISS)
3820TI

Transatlantique

Titanium
582 Q (with date)
Carbon fiber /
Lumed, non serifed / Applied, polished
Polished / Brushed (circular)
Same metal as case
SWISS or T-SWISS-T
3820BB

Transatlantique

Solid 18k white gold
582 Q (with date)
Light gray,

light brown

or dark blue /
Serifed, painted (gray for gray dial), or Lumed, sans serif (for blue dial), or Applied, serifed (for blue dial) / Painted, lumed
Polished / Polished
Same metal as case
SWISS or T-SWISS-T
Lume is applied on 1/10th of seconds markings on the constant second dial (for gray and brown dials)
3820BA

Transatlantique

Solid 18k yellow gold
582 Q (with date)
Black, silver or brown /
Non serifed, lumed / Applied (black dial); Serifed, painted / Painted, lumed (brown dial); Serifed, applied / Painted, lumed (silver dial)
Polished / Polished
Same metal as case
T-SWISS-T or SWISS
3820BR

Transatlantique

Solid 18k rose gold
582 Q (with date)
Black or white /
Non serifed / Applied, or Serifed / Painted lumed
Polished / Polished
Same metal as case
SWISS or T-SWISS-T
On the black dial (sans serif), all dial markings are gold colored, and there is a ridge around the date window.
3820PT

Transatlantique

Solid 950/1000 platinum
582 Q (with date)
Blue /
Non serifed / Applied, or Serifed / Painted lumed
Polished / Polished
Same metal as case
SWISS or T-SWISS-T
2 dial versions, one with a ridge around the date window (sans serif)
3827PT

Transatlantique

Solid 950/1000 platinum
582 Q (with date)
Salmon, radial pattern /
Serifed, applied / Painted, lumed
Polished / Polished
Same metal as case
SWISS MADE
Exhibition case-back. Supplemental applied hour markers at 3 and 9 o'clock.

90 pieces produced

.
3860SS

Transatlantique Réveil

Stainless steel
579 (date, alarm)
Black /
Lumed, non serifed / Applied, polished
Polished / Brushed, circular
Both in same metal as case
SWISS MADE
3860BA

Transatlantique Réveil

Solid 18k yellow gold
579 (date, alarm)
Black /
Lumed, non serifed / Applied, polished
Polished / Polished
Both in same metal as case
SWISS MADE
4820ST

Transatlantique

Ladies
Stainless steel
550 (with date)
Black or MOP /
Sans-serif, painted, lumed / Applied
Polished / Polished
Same metal as case
SWISS
4821ST

Transatlantique

Ladies
Stainless steel
550 (with date)
MOP, cream or blue /
Sans-serif, painted, lumed / Applied
Polished / Diamond-encrusted. A stone of a different color (blue sapphire or red ruby) marks the 12 o'clock.
Same metal as case
SWISS
A partial

Pavé

dial was also maybe available
Design overview of the Type
XX
The aesthetic parentage of the Breguet Type XX with the vintage Type 20 is apparent. The rotating bezel, the dial layout and its larger minute's register all relate to the original models, while adding to the unique character of this watch.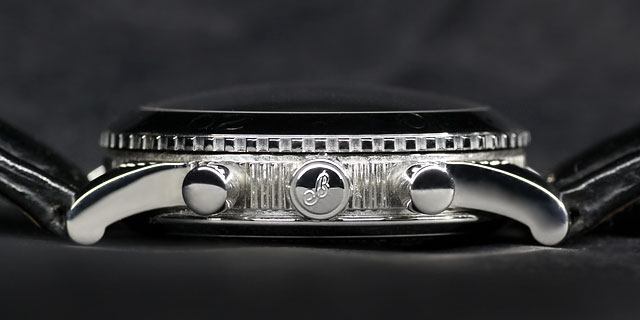 Breguet Type XX
In spite of those "retro" features, we can note an attempt to blend the original Type 20 style with more traditional Breguet codes, like vertical caseband fluting and rounded lugs profile. (Breguet is indeed proud of its identifying marks, and even has a page about their unmistakable signs on their web site.)
In all honesty, the original vintage Type 20 watches were probably not made with the same quality as the "traditional" Breguet watches following the legacy started by founder Abraham-Louis Breguet. Nevertheless, it is important to remember that the military business kept the company running in very difficult times (when even steel was hard to source). However, the integration of these traditional Breguet codes in the modern Type XX would mean that this chronograph is to be more in line now with the rest of the line-up. So, while the Type XX is definitely no longer a military watch, it occupies Breguet's entry level position as a well-made, nearly high-end sports watch.
The dimensions of the watch are: 39.0 mm (diameter) by 14.4 mm (thickness).
Before 1995/1996, the Aéronavale models also used a slightly different writing for the Breguet logo, with no horizontal stroke intersecting the stem of the cursive handwriting letter "t", on the dial and on the rotor logo (which might look a bit like "BregueL" or "Bregueh" from a distance). Interestingly, the (signed) vintage Type 20 chronograph dials may have either the historical logo (without the crossed "t") or the newer style.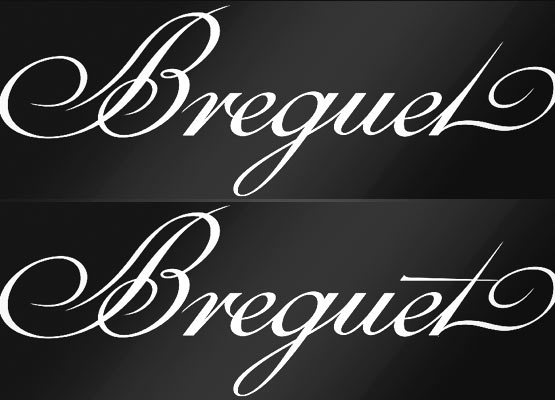 Vintage and newer Breguet logo, with the additional cross stroke on the T
An anti-reflective layer is applied on the inside of the sapphire crystal. However, since it is domed, and does not use an AR coating on its outside, then it is very prone to reflection. The watch has a surprisingly good legibility nevertheless, thanks to its oversized hands and non-contrasting subdials. Fortunately, those large hands do not cross the boundaries of good taste, staying functional and retaining a classic design. The tips of the minute and second hands are slightly bent, in order to fit under the domed crystal.
A recognizable feature of the Type XX chronographs is the larger minutes' totalizer, with the vintage-looking "feuille de sauge" hand. This register can count up to 30 minutes. Naturally, it can be used in conjunction with the hours' totalizer which can count up to 12 hours. Please note that, on most models, the minutes' totalizer is laid out in 2-minute subdivisions, in order to look like a 15 minutes register (to remind of the vintage Breguet Type 20 commissioned by the Aéronavale). The minutes totalizer is therefore not exactly easy to read, since you will have to remember that every mark represents 2 minutes, or that the 5 main indices account for 6, 12, 18, 24 and 30 minutes.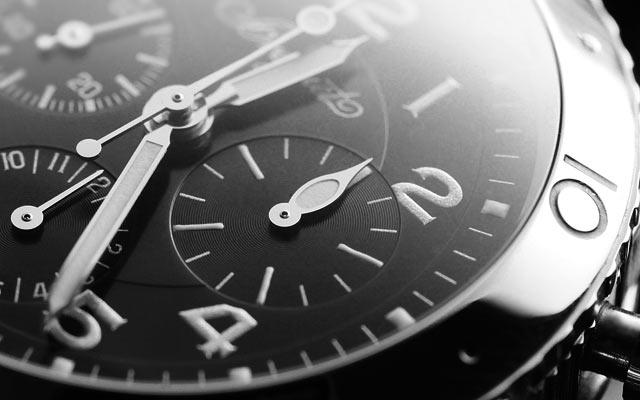 Close-up of the minute totalizer
The font of the Arabic numbers on the dial is typical of the vintage pilot's chronographs. They look quite similar to those found on other models, like the Sinn 103 or the Breitling Chronomat Blackbird. Breguet tastefully used about the same font for all the Arabic numerals on the dial and on the bezel (except for the date window). Usually, the numerals are serifed on the Aéronavale models, and non serifed for the Transatlantique models. The dials of the modern Type XX are lumed with either Tritium (marked simply SWISS, then T-SWISS-T, for the first 3800 Aéronavale models) or LumiNova (marked SWISS, for the 3820 Transatlantique and later 3800 Aéronavale dials). The transition from T-SWISS-T to SWISS dials happened somewhere near 1998.
Interestingly, the first series of Type XX Aéronavale was water resistant to 200 meters (20 ATU engraved on the case-back). Those models had a yellow gold insert on the screw-down crown. The next models were marked as being 100 meters water resistant (for instance: ÉTANCHE 100 m). Please note that the gold capped crowns are getting harder to find, as they generally get replaced by stainless steel crowns during maintenance services.
At the beginning and for a very short period of time, Breguet might also have used a style of central second hand which is different from the usual "lollipop" style. This hand is painted white (a common trait of the Aéronavale; remember the Transatlantique came out years later) but has a triangular, pointy hand.
Below is a picture gallery roughly illustrating how the no-date Type XX 3800ST Aéronavale evolved during its life:
Also, over the years, the Type XX has shipped with several different presentation boxes.
Case-backs
There have been many different case-backs for the 3800ST Aéronavale. I am unsure of their chronological order. The very first version of the case back, found in the earlier serial number watches (as well as a Breguet prototype), might be this one:
That of a different series Aéronavale says:
The water resistance indications seem to be the cause of most alterations of the case-back. Here is another variation:
This one only has a small difference in writing (the removed hyphen):
And yet another version (possibly rarer):
BREGUET TYPE XX
AUTOMATIQUE
NoXXXXX
WATER RESISTANT
10 atm.
REF. 3800
AERONAVALE
This one, fully translated to French, is probably the most modern version of the case back:
The case-back of a 3820ST Transatlantique is much less heterogeneous. It says:
The case-back of the 3860ST Transatlantique Réveil is as such:
The serial numbers of the Réveil models start at 60000.
Rotatable bezels
The Type XX comes with a handy rotating bezel with 60 clicks. The tens of minutes are engraved, clockwise, and there is a luminescent triangle at 0 minutes.
However, the first models of Aéronavale had a uni-directional bezel (turning anti-clockwise), whereas the later models all have a bi-directional bezel.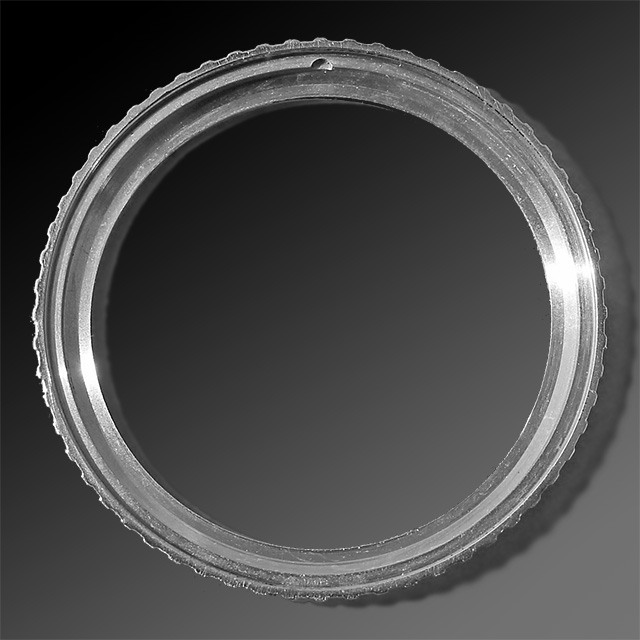 Inner side of the Type XX's bi-directional bezel
As said above, when it comes to the bezel, the main visible difference is between the Aéronavale (polished bezel) and stainless steel or titanium Transatlantique (brushed bezel). All white gold, yellow gold, rose gold and platinum models have a polished bezel, as well as matching bracelet center links.
However, there is another subtle difference, which applied to both the Aéronavale and Transatlantique, in the shape of the number 3 on the bezels. At least two main font type exist: with a longer center stroke, and with a shorter center stroke.
Investigation is still under way as the chronology of the bezel variations has not been established yet.
Bands for the Type
XX
The Type XX can be worn on a strap or on a bracelet. The strap can be secured by a signed tang-type buckle, or signed deployant buckle (which used to be a "butterfly" double-fold clasp for the first models, replaced by a single-fold clasp, which is similar to that of the bracelet). The interhorn width is an unusual 21 mm, and the buckle width is 16 mm. The steel bracelet for the Type XX is beautifully made; it has solid links, and comes either fully polished (Aéronavale), polished with brushed center links (stainless steel Transatlantique), or fully matt (titanium Transatlantique). It sports a hidden clasp where the letters BREGUET are engraved. It does not have a security lock. However, it has fortunately not popped yet while on my wrist in any occasion.


The Type XX bracelet in stainless steel (note: a complete bracelet contains more links)
The bracelet adjustment is done by adding or removing screwed links. The first Type XX bracelets have one type of links, which can be used on either side of the bracelet. However, later bracelets (when mounted properly) show no apparent screw on the exposed side of the bracelet—i.e. the side facing the hand, not the forearm—thanks to the use of two dissymmetrical (mirrored) types of links. It seems like Breguet has gone the extra mile to offer this nice touch of symmetry when looking at the bracelet sidewise.
Movement of the Breguet Type
XX
The Type XX uses an automatic integrated chronograph movement. In line with its Type 20 predecessor (as seen in the previous chapter), one of the main attributes of the Type XX is its flyback feature.
We have seen that there have been two movements used in the men's Type XX:
the Caliber 582 (a.k.a. Lemania 1378) used inside the

Aéronavale

, with no date;
the Caliber 582 Q (a.k.a. Lemania 1372) used inside the

Transatlantique

, with date and quick-set complication.
Both movements look very similar, aside from the obvious date wheel located on the dial side of the movement, and have the same number of jewels. Interestingly, all Type XX Transatlantique rotors are engraved CAL. 582, and not 582Q. (Aéronavale rotors are also generally engraved Breguet CAL. 582, but sometimes just Breguet.)
The 582 and 582Q movements share the following characteristics:
Self-winding
Integrated chronograph with flyback complication
Straight-line lever escapement
25 jewels (sometimes 26)
28,800 BPH (and therefore,

¼

th of a second chronograph)
Monometallic balance wheel; self-compensating flat balance spring
48 hours of power reserve
13

¾

line

Adjusted in 5 positions
These movements are exclusive to Breguet, were developed specifically for this timepiece, and can therefore be technically considered in-house (since, for some reason, some people seem to care a lot about that). The rotor operates the automatic winding in both directions.
The date wheel uses a directly driven mechanism, which operation, according to Breguet, starts between one-and-a-half and one hour before midnight and is completed at midnight in a bracket ranging between –5 and +5 minutes.

Animated/interactive image of the Breguet caliber 582 (in most browsers).
If you see the fourth wheel spinning, try playing with the bottom pusher (chronograph start) or top pusher (reset).
The chronograph's minute totalizer, located at 3 o'clock, counts up to 30 minutes (even though it looks like a 15-minute register, as we will see in a following paragraph). The minute hand is continuous (i.e. not jumping like the Valjoux 7750 found in the Breitling Chronomat). The movement does not hack: the running seconds' hand does not stop when the crown is pulled out.
You may also notice that, if the chronograph is engaged, the chronograph minutes' and hours' hands move when setting the time.
This is one of the few movements which have a better power reserve while the chronograph is running.
The rarer ladies' Type XX uses a different type of movement. The Breguet Caliber 550 is a compact column-wheel, non-flyback automatic movement with date, also used by other Breguet models. It is based on the caliber Lemania 1050, and measures 10½ lignes, has 38 jewels, and a power reserve of 45 hours. Note that its registers are laid out differently from the Men's Type XX.
The decorative finish of the 582 and 582Q movements has remained the same through the years, although the watch was initially not supposed to come with an exhibition caseback. The movement's plates and bridges are rhodium-plated, and the main plate is decorated with perlage. A Côtes de Genêve pattern is performed to the rotor and the bridges. The rotor is sometimes individually numbered, and bears the Breguet logo written in gold color. The chronograph levers' edges are chamfered (beveled and polished), and their surface is finished with straight graining. The overall decoration is nothing too spectacular, but this is not an unpleasant movement to look at, either.
25 jewels vs. 26 jewels
The first models of Type XX ref. 3800 used a 26-jewel version of the caliber 582. It is hardly noticeable, since only not many models have this particularity, and it is only visible when opening the watch case (thanks to the indication TWENTY-SIX (26) JEWELS on the barrel bridge).
According to Breguet, this early movement version is fitted with a jewel in the center of the barrel bridge instead of a zirconium stone. It was manufactured for only about one year.
Cam/lever vs. column wheel
Unlike the higher-end movements used in Breguet's Classique line-up, the Caliber 582/582Q uses a cam-lever switching set-up to operate the chronograph functions. It is probably fair to say that the 582(Q) movement is the highest grade cam switched movement of its time. High-end chronograph movements (like the El Primero, Patek Philippe, etc.) usually rely on a column wheel set-up to coordinate the chronograph functions (start/stop/reset, and more if there are complications—flyback is one).
Indeed, the column wheel actuation mechanism has the advantage of decoupling the force applied to the pushers from the rest of the movement, while the castle wheel's pillars accept or reject the function levers. This can result in a slightly better feel; if properly executed, it can also have tighter tolerances.
On the other hand, the cam/lever set-up (used in many newer chronographs calibers, like the Lemania 1873 of the Breitling Cosmonaute A12023) is more modern, makes use of a lower number of parts, can be more easily produced (by metal punching) and does not require a perfect finish to operate.
Being less sophisticated and less expensive, the latter is therefore usually not found in a Breguet; it is also a departure from the movement of the original Breguet Type 20.
Breguet 582 family tree
In my previous article about the lineage of the Lemania caliber 1873 (see the Breitling Callisto Chrono), we quickly went back in time to the Omega caliber 321. The scope of the current chapter is broader, as it tries to provide more detail by presenting the most notable evolutions of each movement generation.
Lemania/Omega Pocket watches era
The period at the very beginning of the 20th century (and the end of the 19th century) is still unclear to me, although it appears that Lemania (under the name A. Lugrin and Co. until the 1920s) and Omega have been producing chronograph pocket watch movements, which are the most likely ancestors in the lineage of the caliber Breguet 582.
They could also fit inside oversized (e.g. 46 mm) wristwatch cases.
Those movements are known as the Lemania 19N (in its variants 19NT and 18NP), the Omega 19 CHRO (which was the first chronograph produced by Omega) created in 1896, and the Omega 18 P CHRO (used from 1906 to 1928, and which could be used in wristwatches). They sported a 15-minute or 30-minute register for the chronograph.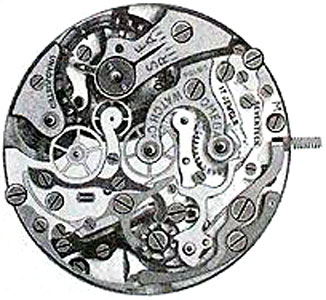 Omega 28.9 CHRO T2
Lemania 13CH / Omega 28.9 CHRO generation
Movement generation base characteristics
Dimensions
13

lignes

(28.9 mm)
Layout
2 registers (60 continuous seconds + 30 chronograph minutes)
Features
Chronograph, hand wound
Beat rate
18,000 BPH
Chronograph actuation
Column wheel
Updates mainly focused on
Reliability
The Lemania caliber 13CH is also known as the Omega 28.9 CHRO. As those designations imply, its diameter is 28.9 mm (13.0 lignes). It has 17 jewels and no shock protection. The 28.9 CHRO came out in 1932, with its chronograph function piloted with the crown; The 28.9 CHRO T1 had one chronograph pusher (in addition to the crown, used to reset); the slightly thicker (6.35 mm versus 6.1 mm) 28.9 CHRO T2 came with two pushers in 1938. There also was the 28.9 T3, specifically designed for water resistant watch cases.
(It was not produced any more in 1949, when Omega switched to the new 3-digit denominations.)
Wristwatches using this movement family: Longines (like Amelia Earhart's wristwatch, used during her two trans-Atlantic flights) with the monopusher version of the movement; Omega (notably embarked in the watches used by the 24 teams of the Rome–Chicago race in 1933); Mathey-Tissot used the two-pusher version (renamed to Mathey-Tissot 129)…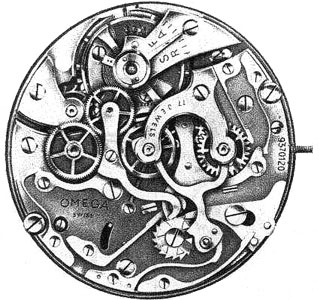 Omega 33.3
Lemania 15 / 22xx / Omega-Tissot 33.3 / Omega 170 generation
Movement generation base characteristics
Dimensions
15

lignes

(33.3 mm)
Layout
2 registers (60 continuous seconds + 30 chronograph minutes)
Features
Chronograph, hand wound
Beat rate
18,000 BPH
Chronograph actuation
Column wheel
Updates mainly focused on
Reliability
The Lemania 15 series, created in the early 1930s, is notably larger than the 13CH, and therefore more accurate and reliable. It was first used in pocket watches. This movement bears 17 jewels, does not hack, and has a power reserve of 36 hours.
To my knowledge, the Lemania 15 did not reuse any part from other Lemania calibers, which is a relatively unusual case of a totally new movement.
The 15 CHT is a 15 lignes manual-wind mono-pusher chronograph movement. Its column wheel has 6 teeth. It was later renamed Lemania 2210. With an Incabloc anti-shock device added, the 15 CHT becomes known as Lemania 2220.
Another movement from the Lemania 15 series, the 15 TL is a 15 lignes manual-wind two-pusher chronograph movement. It is particularly interesting as it is probably the most long-lived Lemania movement, and the first to be able to ship with the Flyback function (this particular version was called Lemania 2040). Its column wheel holds 8 teeth.
The 15 TL used by Omega and Tissot (during the Tissot-Omega merger) was named Omega 33.3 and Tissot 33.3 (33.3 CHRO), after the dimension of the movement (in millimeters). There have been several minor evolutions of this movement, called 33.3 CHRO T1, T2 etc. through T6, until the movement was eventually called Omega 170 in 1949 (and Omega 171, in the case of the 33.3 CHRO T6 PC AM). 13,700 pieces of those movements were produced from 1933 to 1952.
Wristwatches using this movement family: Tissot (as caliber Omega-Tissot 968); Lemania TG 195 (caliber Lemania 2225); Auricoste Type 20 (caliber Lemania 2040)…
This movement is often found in military timepieces from Czechoslovakia, Rhodesia, the French Air Force (see the Auricoste Type 20), the Swedish Air Force, the British Royal Air Force, the South African Air Force, the South African Air Force, the Royal Canadian Air Force…
Movements related to this family: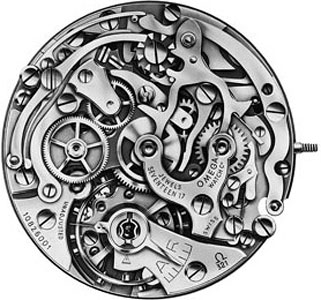 Omega 321
Lemania 27 / Lemania 2310 / Lemania 2320 / Omega 320 / Omega 321 generation
Movement generation base characteristics
Dimensions
12

lignes

(27 mm)
Layout
2 registers (60 continuous seconds + 30 chronograph minutes) or 3 registers (60 continuous seconds + 30 chronograph minutes + 12 chronograph hours)
Features
Chronograph, 46 hours power reserve
Beat rate
18,000 BPH
Chronograph actuation
Column wheel
Updates mainly focused on
Compactness, robustness
In the early 1940s, Albert-Gustave Piguet (who was hired as a calibrist at Lemania in 1934) creates a new chronograph movement called 27 CHRO. Its construction is more compact—smaller in diameter and thinner (though an overcoil in the mainspring) than its predecessor—but also more robust. It is recognizable thanks to its distinctive arched bridge. It has 17 jewels, a Breguet overcoil hairspring, and regulation screws in the balance wheel. This movement has a high reputation for accuracy, reliability, and good chronograph pusher feedback.
There have been 5 versions of this movement: 27 CHRO, 27 CHRO C12, 27 CHRO PC AM, 27 CHRO C12 T1 PC AM, 27 CHRO C12 T2 PC AM. The most famous is the 27 CHRO C12 (which name comes, according to the Lemania nomenclature of that time, from an abbreviation of the French "27 mm chronographe compteur 12 heures") regarded as the smallest chronograph movement of its time with a 12-hour register.
In 1949, the 27 CHRO C12 T2 was renamed, according to the new nomenclature, to Omega 321. It is notably famous for being the original Omega Speedmaster Moon Watch's movement. The Lemania reference later also changed to Lemania 2310, along with a finer finish, probably as the manufacture became known as Nouvelle Lemania. The 2320 is an evolution on the 2310, with 21 jewels, and added swan neck regulator. This movement is still being produced, as of 2010!
Watches using this movement family: Omega Speedmaster; several Lemania chronographs; Patek Philippe 3970, 5070, 5970 (as Caliber 27-70, heavily modified); Ulysse Nardin Moonphase Chronograph 531-22; Daniel Roth C147; Vacheron Constantin Les Historiques chronograph, Malte chronograph, Patrimony chronograph (as Caliber 1141, based on the Lemania 2320); Breguet 5237…
Movements related to this family:
The Lemania 2510 (CH 27 c 12) is a 3-register 17-jewel derivative of the 2310 (CH 27).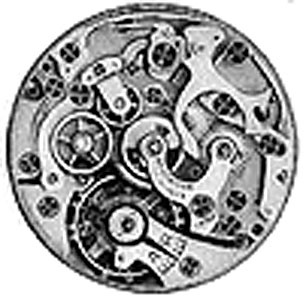 Lemania 1270
Lemania 1270 / Lemania 1280 / Tissot 870 generation
Movement generation base characteristics
Dimensions
12

lignes

(27 mm)
Layout
2 registers (60 continuous seconds + 30 chronograph minutes) or 3 registers (60 continuous seconds + 30 chronograph minutes + 12 chronograph hours)
Features
Chronograph, hand-wound, power reserve of 39 hours
Beat rate
18,000 BPH
Chronograph actuation
Cam switched
Updates mainly focused on
Ease of manufacturing (cams/levers and annular balance)
In-between the 321 and the 861, came the 1270, which can be viewed as a transitional caliber: Lemania kept most of the base of the earlier caliber, including the distinctive arched bridge, but got rid of the column wheel, the Breguet overcoil and (sometimes) the screwed balance, for the sake of simplicity.
This movement is like a simplified and (back then) technologically advanced caliber 321. It was developed between 1970 (still with no shock protection) to 1981, and can also be found under the names Tissot 870 (1280), 871 (1281) and 872, and Lemania 195 (also 1281).
The 127x versions have 2 registers, and the 128x added a third register for the chronograph hours.
The references are Lemania 1270 (without shock protection), replaced by the Lemania 1275 (with Kif shock protection), again replaced by the Lemania 1276 (with Incabloc shock protection), 1277 (where the minute jumper was replaced by a clicking register with spring), and the Lemania 1280 (with Incabloc and additional hour counter), replaced by the Lemania 1281 (minute jumper replaced as well).
Watches using this movement family: Tissot Seastar; Herodia; Lemania 105…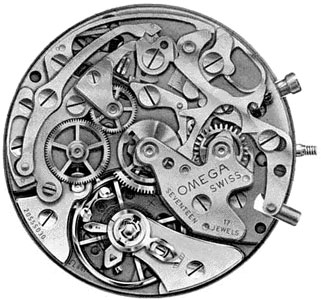 Omega 861
Lemania 187x / Omega 86x / Omega 186x generation
Movement generation base characteristics
Dimensions
12

lignes

(27 mm)
Layout
2 registers (60 continuous seconds + 30 chronograph minutes) or 3 registers (60 continuous seconds + 30 chronograph minutes + 12 chronograph hours)
Features
Chronograph, hand-wound, power reserve of 50 hours
Beat rate
21,600 BPH
Chronograph actuation
Cam switched
Updates mainly focused on
Simplicity (ease of repair), cost reduction
The Lemania 187x was a very successful handwound movement. It was produced since 1968, and is still manufactured as of 2010.
The Lemania LWO 1872 (a.k.a. 27 CHRO PC 17 p) is the earlier, 2-register version of this movement family. Its Omega reference is 860.
The 1873 (27 CHRO C12 PC 17 p), a 3-register evolution of the 1872, is the most famous variation and was produced since 1968; it is also known as the Omega caliber 861.
The new caliber ships with the new technological advancements of its time, with a new non-magnetic hairspring, and a (hard and undeformable) Glucydur balance wheel without screws, beating at a faster pace. On the other hand, it tries to reduce the production costs: it keeps the cam-lever mechanism developed for the 1270, and also gets rid of the overcoil hairspring.
Starting around 1980, it also uses a hard plastic called Delrin, known for its rigidity and low friction, for the chronograph brake, which blocks the fine tooth of the runner wheel. This was so novel that not all versions of this movement used this material: some preferred to use steel instead, deemed nobler. This is most apparent in the version of this movement destined for Omega's display-back models, and the Lemania 1874 luxury version of the 1873. The calibers 861L (luxury version), 863 (luxury version, gold plated), 864 (chronometer-grade 863), 867 (skeleton), 1863 (where 1 indicates a rhodium plating), 1864, 1866(?) and 1867 come with a more traditional steel brake.
The names Omega 1861, 1863, 1864, 1866, 1867 (with the leading 1) correspond to a change in finish: from gilt plated, the movements became rhodium plated (around 1996).
Watches using this movement family: Omega Speedmaster; Tissot PR516 (as Caliber Tissot 873); Breitling Callisto Chrono (as Caliber Breitling 11); Girard-Perregaux Richeville…
Movements related to this family:
Lemania 3872 also known as Omega 930 or 27 CHRO PC CAL 17 p, which is a 2-register chronograph with date display (with the date window located at 9 o'clock), first produced in 1969.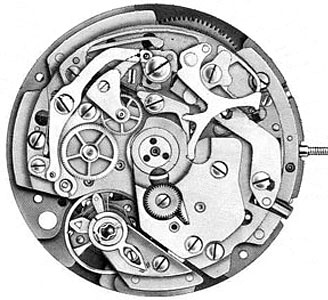 Omega 1040 (shown without its rotor)
Lemania 134x / Omega 104x generation
Movement generation base characteristics
Dimensions
13

¾

lignes

(31 mm)
Layout
Central chronograph minutes and seconds, day/night disc (for some) and running seconds register at 9 o'clock, hour chronograph register at 6 o'clock, date at 3 o'clock
Features
Chronograph, automatic, power reserve of 45 hours
Beat rate
28,800 BPH
Chronograph actuation
Cam switched
Updates mainly focused on
Automatic winding, date, central minutes
The end of the 1960s saw the birth of the automatic chronograph. The first such movement coming out of Lemania's workshops was the 1340 in 1970, still with the cam/lever combination and other architectural choices inherited from its ancestors, including the Delrin blocking lever. It does not hack either, but now beats at a faster pace (hence the slightly smaller power reserve). The movement has a date, with quickset function. As a strong focus was given to winding efficiency, the rotor is mounted on ball bearings, and winds the movement in both directions. It is a very robust and accurate caliber, which was produced in small numbers until 1975.
It seems that we can find 1340 movements with either 17 or 22 jewels (according to the engraving on the bridge). Was a wrong bridge mounted? Or a wrong plate? Are there two different variants?
Omega used it in 1972 (in the Speedmaster Mark III), under the name Omega 1040. Its sweet codename is 31 CHRO C12 RA PC CAL A24 CORR 22 p, indicating that it has a jewels count of 22, probably denoting the additional running 24-hour day/night indicator.
In 1973 followed the Lemania 1341, based on the 1340, but a bit simplified: the 1341 only has 17 jewels, no fine regulation via eccentric screw, and of course, still no 24 hour day/night indicator disc. It also seems that the 1341 uses a Kif anti-shock device (Ultraflex or Elastor), whereas the 1340 comes with an Incabloc shock protection.
The caliber Omega 1041 was based on the Lemania 1340, but with some upgraded parts, so that it could pass the COSC certification (chronometer grade). It has 22 jewels, and is adjusted to 5 positions and temperature. It was used in the Speedmaster 125, the world's first COSC-certified chronograph.
As those movements were costly to produce, a new automatic chronograph was soon developed, namely the Lemania 5xxx family (5012/5100), produced in 1978. But the legacy of the Lemania 134x did not end here. In the 1990s, Ebel and Ulysse Nardin purchased the rights to use the 1340 design from Lemania, and did several developments around this caliber. Since it has a high torque, Ulysse Nardin used it as a base (sans chronograph) for its automatic perpetual movements, under the caliber name UN-32. Ebel reworked it extensively, changing the central minute layout to a more regular minute chronograph register, and moving the date to the 4:30 position (although I am not certain that this required any significant movement redesign), in order to match the layout of the Zenith caliber 400, which used to be encased inside the Ebel 1911, but became unavailable. They also made changes the automatic winding mechanism. This became the 27 or 30-jewel Ebel 137 (known as Lemania 1350, or formerly known as Modulor) in 1994.
But Lemania has also discreetly been doing modifications to this movement; a 33-jewel Caliber 1377 was noticed in Lemania prototypes, with a date window at 6 o'clock, and no central minutes either. Its dial layout looks very similar to what would be the Breguet 582Q.
Eventually Breguet built from those movements (without the calendar), reworking the components and adding the flyback function, and gave birth to the caliber 582. The firm was shortly contemplating keeping the central minutes, but finally went against it. A couple of years later, Breguet added a calendar for the Type XX Transatlantique, and named it the caliber 582Q. (The "Q" prefix probably stands for quantième, which means date in literary French.)
Watches using this movement family: Alpina, Aurore, Breguet, Butex (BWC), Croton, Ebel (1911), Eberhard, Enicar, Jaquet-Droz, Lemania, Longines (Lindbergh), Omega, RGM, Rainer Brand (Carcassonne), Rodania, Roger Dubuis, Sinn 140 b with Lemania 1341 movement (first automatic chronograph in space), Tell (1340), Tissot Navigator etc. (Lemania 1343, Tissot 2170, Tissot 873), Wakmann…
Movements related to this family:
This chapter illustrates how the Breguet caliber 582 comes from an impressive lineage of fine mechanical movements.
Owner's review of the Breguet Type
XX

Aéronavale

ref. 3807

No matter how you look at it, this is a dream watch. The single fact of wearing a Breguet is magic! The watch is stunning, classy, and yet subtle enough to only catch the eye of the connoisseur.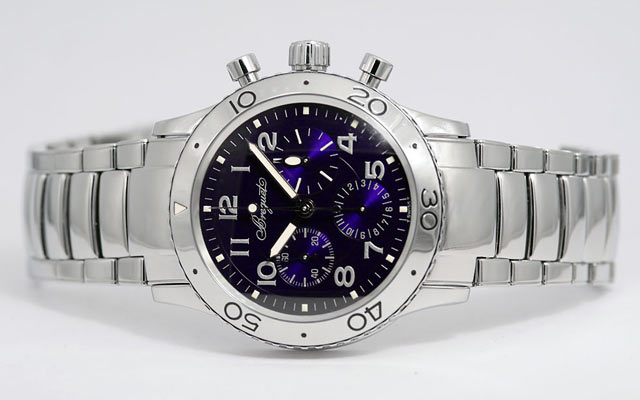 My Breguet Type XX Aéronavale reference 3807
For someone living in France, wearing this watch may also bear a special significance: Breguet used to be French; the vintage Type 20 has done military service in France—and its face is blue (which is the natioanl racing color of France—like red is to Italy). But I digress…
The Breguet Type XX is probably a direct competitor to the world's most iconic sports chronographs, among which are, for me, the Omega Speedmaster Professional, the Rolex Daytona Cosmograph, and the Breitling Navitimer. The first thought is that Breguet is a higher-end watch brand, and certainly the most exclusive of the lot. In terms of functionalities, Breguet is a step above the pack with its flyback chronograph and, more importantly, a rotating bezel (which, without dismissing the use of a slide rule bezel, is more useful in most daily situations).
I also like the non–screw-in pushers, which are easier and quicker to operate, and make more sense for a pilot's (or driver's) watch.
Yes, the Type XX finds its roots a pilot's watch, and this is certainly apparent in its style. But is this modern Type XX still a credible pilot's watch? Probably not really: it has a steep price tag, polished surfaces (which means severe glare from the sun light), a display back too nice to be true; those are many reasons why the chances of seeing a "professional" (commercial airline or military) use of this watch in aeronautics are weak.
This Breguet is more like a piece of jewelry, an attention getter; this shiny blue face, the polished bracelet in which you can see your delighted face, will make you feel more at home while window shopping in Place Vendôme than inside a cockpit. But you may also note that Breguet does not advertise it as a pilot's watch, which is a nice touch of honesty, especially in today's superficial marketplace!
The absence of a date on the dial is not a problem for me anyway (since I often switch watches daily, and am just too lazy to adjust the eventual complications, so the date stays un-set; I am also therefore less stressed to damage the quickset date mechanism). In addition, I like the cleaner no-date look, and never understood why lots of brands use different fonts for the date wheels. It is also truer to the original Type 20 which we have described in the first paragraph.
I should also spill some ink about the minute register. Thanks to its 5 large baton markers, it certainly catches the eye, and is analogous to some of the Breguet Type 20 wristwatches commissioned in the 1960s. However, as the minute register now records 30 minutes (and not 15, as the vintage model did), this does not result in a perfectly functional readout. While, of course, this does not make the chronograph useless, I would have preferred a true 15-minute movement!
The dimensions, with a classic 39.5 mm in diameter, are very similar to those of my Breitling Chronomat. Though it is compact by today's standards (44 mm seems more popular as of 2010), it does not feel like a small watch, at least on my 6.5 inches (16.5 cm) wrist.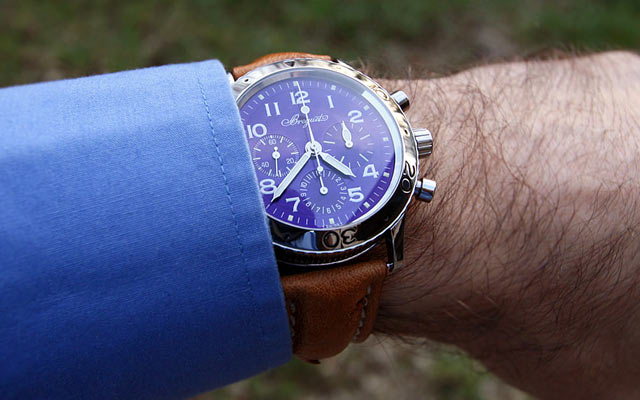 Wrist shot of the special edition Breguet Type XX 3807 on aftermarket strap
With all due respect, the Type XX probably does not have all the cachet of an Abraham-Louis Breguet creation, and the finish of their movement is more simple (however way above the original Type 20, which has never been the most exciting Breguet creation); but it is the casual Breguet, great for daily wear and an active lifestyle. If you want to wear a Breguet day-in, day-out, then this watch will make you proud and cheerful. Even better: you will not have to sacrifice the functionality of a flyback chronograph, or a rotating bezel!
What are the main assets of this watch? And does it have any drawbacks? Here is a list of some of the positive and negative aspects of the Type XX.
Type

XX

3807 Pros and Cons

| Pros | Cons |
| --- | --- |
| Finish: attention to detail is magnificent on the watch and the bracelet. Build is flawless as well. | Bracelet adjustment: adding or removing links needs a steady hand, a good screwdriver, and a handful of minutes. As seasons come and go, and you adjust your bracelet for hot or cold weather (which I do, but some people seem to not need that), you might regret the absence of a micro-adjustment feature. |
| Flyback: this is a neat refinement and clear improvement over the classic chronograph function. After using it for a while, you just wish all chronographs had the flyback feature. (Once you go Flyback, you don't go back!) | Not a "tool" watch: (while I am not implying that this watch is fragile) the highly polished surfaces are a good reminder that wearing it while fixing things around the house is probably a bad idea. Unlike my Breitling Superocean Professional. it does not look or feel like a tank. (But that is the nature of the beast, after all!) |
| Legibility: excellent, and actually better than many larger watches (on par with the Breitling B-1, which is my personal reference). | Crystal reflections: the non-AR coated crystal catches a lot of reflections. It is hard to take good pictures of the dial. |
| Size/dimensions: 39.5 mm is elegant, versatile and functional. It might be a "sweet spot" for my wrist. | Lume: it is underwhelming—maybe because it's a several years old tritium luminous compound. |
| Bezel: usable rotating bezel, with decent responsiveness. A function definitely as handy as a chronograph. | Minute register: the 30-minute counter dressed as a 15-minute counter does not make for an optimal readout. |
| Display back: I just cannot resist a nice view of this movement… | |
---
Thank you for reading this article about my Type XX and its history. As with any new watch I get, it teaches me much about horology. This hobby is like a never-ending quest… I can already feel the journey is not over.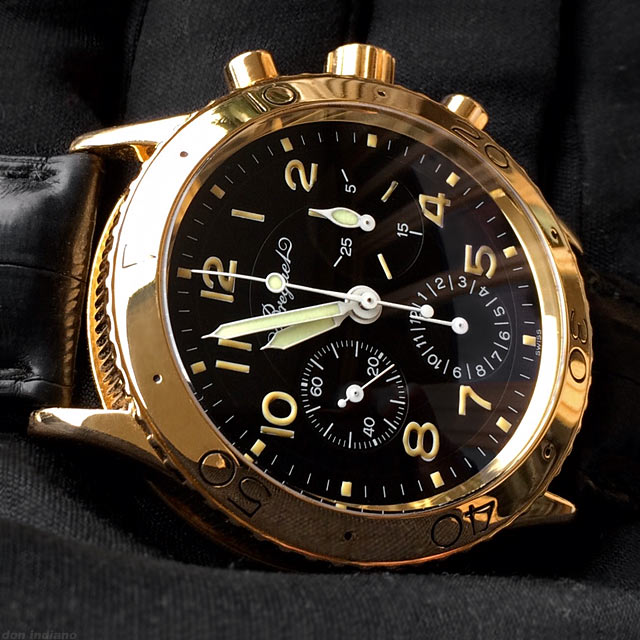 Early Breguet Type XX 3800BA in yellow gold (Photo credit: Henrik Schwiening)
References
This article was written thanks to many sources, the most interesting or authoritative of which are:
The Type 20: French Military Chronographs (alternate link), Stephen Sugiyama, 1999
Chronographes militaires français : Type 20 & 21, Erick D., 2009
French in flight, Robert Keulen, 2005
Les montres militaires, ZEN, 2005
Aeronavale vs Transatlantique, PuristS forum, 2005
Militäruhren: Uhren der französischen Streitkräfte, Stephan Ciejka and Konrad Knirim, 1996
War-Timers II - Fliegerchronographen der Deutschen Luftwaffe: Hanhart, Kal 41 / 42, Bat-Flight, 2010
Chronographes Type 20 et Type 21 : un peu d'histoire, Martin Péneau, 2010
Hanhart - die Manufaktur aus dem Thurgau, unknown author
bidfun-db Archiv: Uhrwerke: Lemania 1340, Dr. Roland Ranfft
Also based on oral and written discussions and articles from (in alphabetical order) Peter Barrett, Emmanuel Breguet, Guiseppe Corcione, John Davis (a.k.a. ei8htohms), Michael (a.k.a. Burak from TimeZone-UK), Michel F. (Reims), Jean-Luc Gremaud, Gene Pilato, Henrik Schwiening, George Tipter, and numerous others.