You are here: Home page ► Watches ► Breitling SuperOcean ► SuperOcean Professional
An all-matt SuperOcean
The Breitling SuperOcean Professional was available from 1998 to 2002, and was also contemporary with the regular SuperOcean.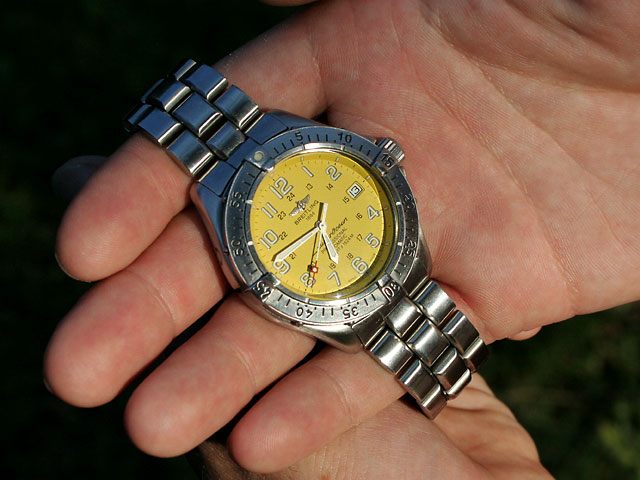 My yellow SuperOcean on the first day
The SOP was presented with 2 dial options: black or yellow—the latter being somewhat rarer. Yellow is said to be one of the most legible colors into the water.
Visually, there are some differences to tell them apart:
The SuperOcean Professional uses the same case as the SuperOcean, but brushed, and with an added helium escape valve. Later SuperOceans kept the valve.
It also uses a quite similar dial, but the scale with 100ths of hour (from the SOs from the same period) is replaced by little baton-shaped phosphorescent hour markers. Later SuperOceans kept that design.
Hands are matt for the SOP, and polished for the SO.
The applied 18k solid logo (instead of painted on the early SuperOceans' dials). Later SuperOceans kept that feature.
The word Professional on the dial.
The dial is also matte, whereas the SO gets a glossy black.
There are no indices between the hour numerals.
The reference numbers are different (ends with 45 for the SOP, 40 or 60 for the SO).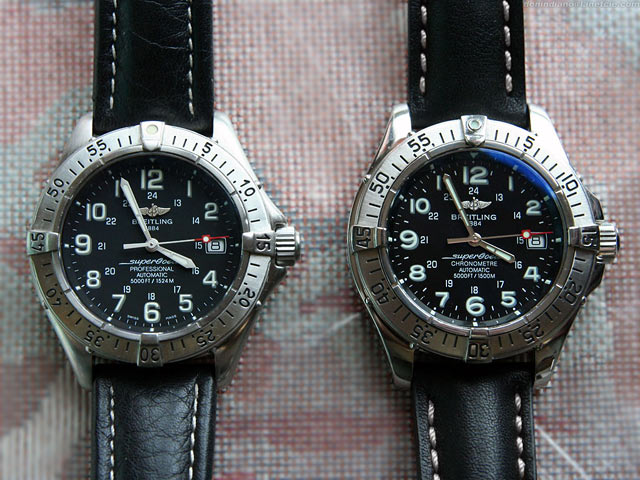 A17045 SuperOcean Professional (left) and A17360 SuperOcean (right)
The crystal of the SuperOcean Professional is also a bit thicker (4.2 mm vs. 3.7 mm) than the regular SuperOcean. This helps the watch achieve a higher water resistance.
The Professional bracelet of the SuperOcean Professional is also entirely brushed, to match the case. Also note that a SO with a Professional bracelet is not a SOP.
Brushing the watch case, according to the Breitling catalogue, avoids glinting liable to attract potentially aggressive fish.
There were actually 2 sub-versions of SOP:
the A17045 ("Colt SuperOcean Professional", non-COSC certified). Its caseback opens with a 6-radii tool.
the A17345 ("SuperOcean Professional", COSC-certified). Its caseback opens with a 15-radii tool, and says

Chronomètre

.
(Thanks to Jon Barnett for information regarding the crystals.)