You are here: Home page ► Watches ► Breitling Cosmonaute ► Ref. 12023
Introduction
The 12023 special editions of the Cosmonaute are among the rare Breitling models to have see-through casebacks. Those were apparently produced in less than 3,000 pieces, from 1993(?) to 1997(?).
There are several known versions for this chronograph:
A12023, fully in stainless steel, with black dial or blue dial (both with silver subdials);
D12023, with a stainless steel case and yellow solid gold bezel and main hands; they came with the aforementioned black and blue dials, plus a silver dial with golden subdials.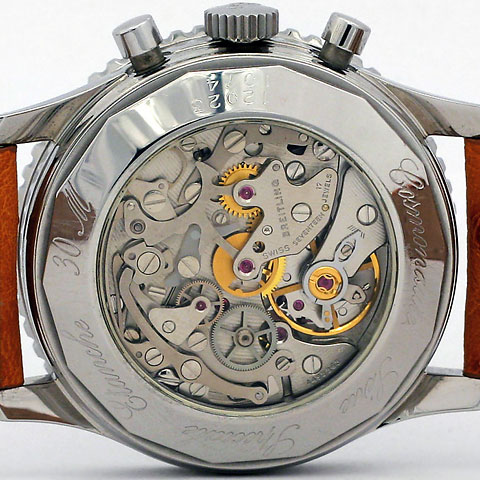 Cosmonaute A12023 with see-through caseback
As their reference numbers suggest, these watches use the Lemania-based Breitling Caliber 12 movement, and are not chronometer-certified.
Please note that the Lemania movement used by Breitling at this time can come with either 17 or 18 jewels, and with different colors of wheels.
This watch should not be confused with the A12021, a very similar watch which was produced shortly before, but was limited to the Japanese market.
The exhibition caseback
The particularity of the "série spéciale" 12023 Cosmonaute, compared to the 12022, its otherwise twin sister, is the display back. This piece of glass allows the movement to be admired, as well as seeing the gears working and the pushers' actions.
This kind of caseback is more often found on manual-wind movements; the current automatic 22322 Cosmonaute has no display-back, mainly because an automatic movement is visually less appealing.
The back of the case shows: Cosmonaute Série Spéciale Étanche 30 M, as well as the reference number and the serial number, which is 4 digits long (denoting a relatively small production).
Open questions
I still do not know whether there ever was a solid gold K12023. Apparently, in 1997 the A12023 (display-back) used to be contemporary with the K12022 (non–display-back), so the existence of a K12023 looks unlikely.
I ignore whether a COSC-certified version of this movement was produced with the display-back; if so, it should be an A12323. But, since some sources say that the A12023 was discontinued in 1997, that would be too early for a COSC version (which would be around 2000).
I once heard this glass in the back was not sapphire crystal, though I think it is, but cannot confirm.
Any feedback to help solve these questions would be greatly appreciated!
With many thanks to Elwyn Perser!