You are here: Home page ► Watches ► Breitling Chronomat ► Complications
What are complicated Chronomats?
Aside from special and limited Chronomats, there are models that, while retaining the case of the watch, have a more sophisticated movement inside.
A simple chronograph is usually not enough to be considered a "complication"; but if you add more functions to the mechanical movement, you may fall into this category.
Chronomat Yachting (a.k.a. Chronomat Regatta)
The Chronomat Yachting's top chronograph subdial is replaced by a dial which tracks the last 10 minutes before the start of a race.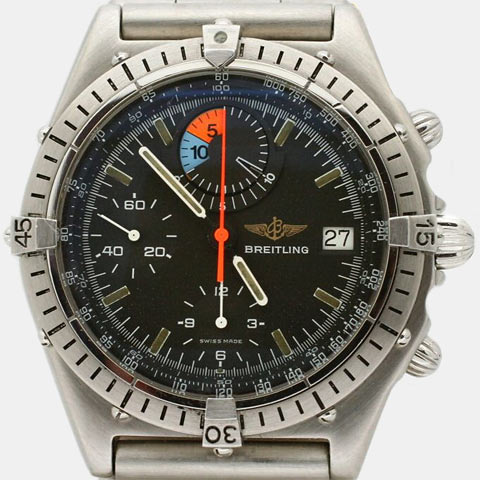 Chronomat Yachting 81950
Most of these watches were produced with a two-tone case, but some were made in stainless steel. Those models were the 81950 from around 1989, the B13047 and the B13048 from around 1992–1995 (and possibly a B13050 model, too).
Chronomat Moonphase (a.k.a. Luna)
The Chronomat Luna (though I am not sure of the denomination) is powered by a Valjoux 7758 with moon phase. The model number is 81950 (two-tone) from around 1988/1989.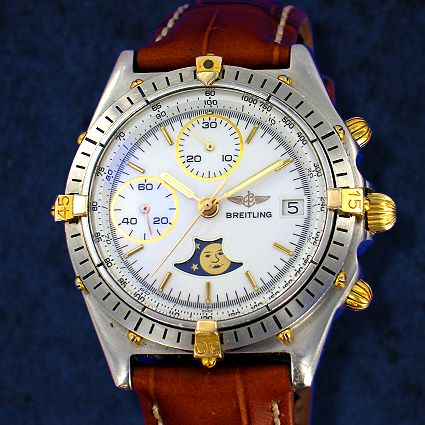 Chronomat with moon phase (photo credit: ClassicWatchCenter)
It had the double reference numbers 81.950/B13047 in 1990/1991. Both silver and black dials are to be found, but this watch was not a big seller and is quite rare nowadays.
Chronomat Longitude
The Chronomat Longitude has a 2nd hour hand, and its rotating bezel indicated the hours (not the minutes). It comes with a bi-directional rotating bezel. It was produced from 1996 to 2003, and its serial numbers are A20048 and A20348 (the latter being chronometer certified).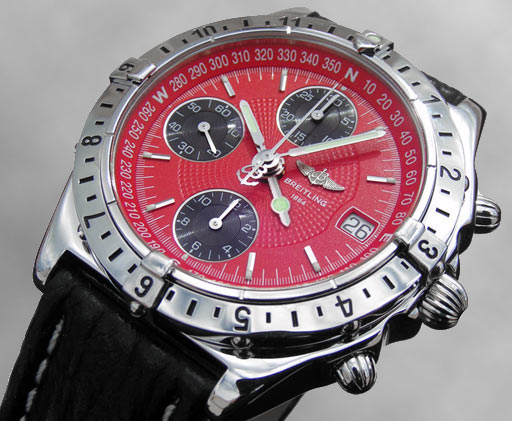 Chronomat Longitude
The Longitude comes with different dial options, with colors like black, yellow or red; hour markers may be applied batons or Arabic numerals. Some dials show a guilloché pattern.