You are here: Home page ► Watches ► Breitling Chronomat ► Movement
Introduction
The Breitling Caliber 13 is based on the well-known ETA Valjoux 7750 movement. It is an automatic (self-winding from the movements of the wrist), integrated chronograph with quickset date. This has been the workhorse for the modern best-selling Breitling watches—not only the Chronomat models, but also the iconic Old Navitimer (now discontinued).
This famous Valjoux movement has a power reserve of 42 hours, and a frequency of 28,800 vibrations per hour. It winds in only one direction (unlike the Caliber 17), which allows the rotor to move freely in the other direction. It has therefore been nicknamed "the wobbler", because it's noisy and lively on the wrist.
It is also a particularly precise mechanical movement, especially in its price range.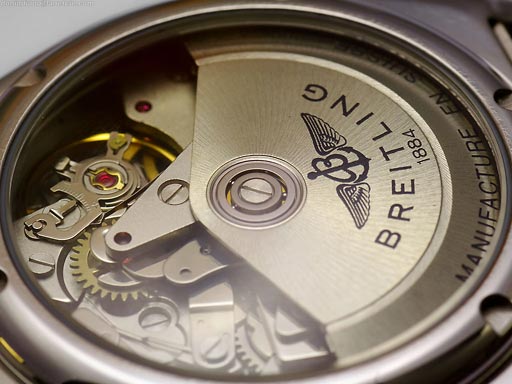 A mid-90s' Caliber 13 behind a custom transparent caseback
The Chronomat has also seen complications added to this caliber.
Movement modifications
Mechanical improvements
For the earlier models, it is not known what amout of work Breitling did to the movements, but it was probably only marginal (if at all).
In the later models, Breitling has been sourcing high quality "ébauches" (movements in kits and not yet able to run) from its supplier ETA, then upgrading the movements' balance wheel, hairspring, and mainspring with technically more sophisticated metal alloys. The escapement (escape wheel and pallet fork) also comes from Breitling. Then, the assembled movements go through regulation and fine-tuning at the Breitling workshops, in order to meet the COSC accuracy requirements.
The first Valjoux 7750 movements have been using 17 jewels until 1992-93, then were upgraded to 25 jewels by their manufacturer. The added jewels were added to the chronograph unit to increase the longevity of the parts. Usually the old movements were swapped by Breitling during a maintenance service.
Visual improvements
The older movements used unfinished plates and bridges; those have later been enhanced with perlage and Geneva stripes.
The most notable finishing difference is found through the use of different types of oscillating weights. These gradually went from having a simple Breitling stamp, to a slightly more refined Breitling engraving, then finally a logo engraved and plated with yellow gold, along with Geneva stripes.