You are here: Home page ► Watches ► Breitling Bands ► Fighter
Presentation
The Fighter bracelet is the original steel bracelet for the B-1, B-2, Colt and Colt Océane.
Under the reference number 874A, the Fighter bracelet for the B-1 is both polished (outer two links, solid steel) and brushed (center link, which is also slightly thicker). A complete 874A bracelet is composed of 10 full-size links, 4 of which are removable (with screws on the side). There also was an all-brushed 892A version, made for a certain variation of the B-2.


The 874A Fighter Bracelet for the B-1
This bracelet can come in stainless steel, solid white gold, or solid yellow gold. Available interhorn sizes are 22 mm (for the B-1 and B-2), 18 mm (for the Colt) and 16 mm (for the Colt Océane ladies' model).
With the introduction of the Airwolf in 2006, this bracelet has been discontinued and replaced by the "Professional II".
The UTC module
The B-1 can be fitted a special Fighter bracelet integrating an UTC module (which looks like a second, smaller analog watch). Breitling UTC modules are quartz 24-hour auxiliary dials, and come in either blue, gray or black color. Their bezel show a compass rose, that can track the North (Northern hemisphere) or South (Southern hemisphere) thanks to the position of the hour's hand related to the Sun. They are water resistant to 100 m.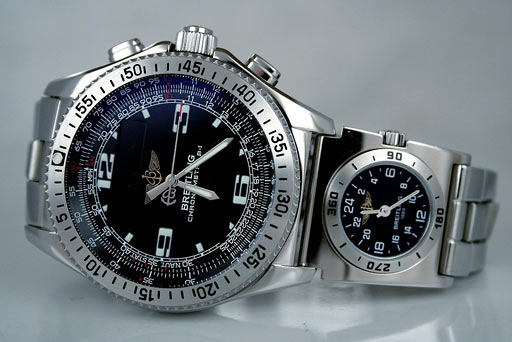 The B-1 with a UTC module. Picture courtesy of Ron Scott. Visit Ron's excellent photo gallery.
They can also be fitted on special, shorter (generally 85 mm long) straps.
Reference number of this module is A70174; that of the UTC-specific Fighter bracelet is 877A (which has one half-bracelet shorter than the regular 874A).
Analog UTC modules have been discontinued altogether in 2006, and replaced by the Co-Pilot module, which is a digital multi-function module integrated to the bracelet.
Dating the bracelet
Inside the bracelet, it should be possible to read a group of four digits (for instance, 1701) showing its date of manufacture. Indeed, the last two digits represent the year of production of the bracelet (here, 01 as in 2001), and the first two represent the number of the week (here, the 17th week of the year, which occurs in April).
Adjusting the bracelet
Here is some illustrated help for those needing to adjust their Fighter bracelet.
Carefully unscrew 2 screws from the same link.
Bend the bracelet to extract the link easily.
Bracelet is open, you're done!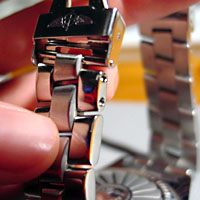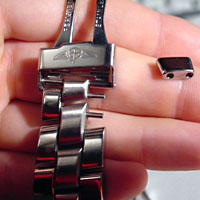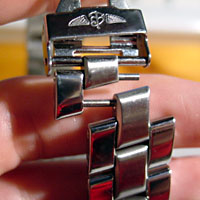 Steps 1, 2, 3.
Before adding or removing links, don't forget that this bracelet also sports a micro-adjustment feature, which proves quite convenient when the weather changes (seasons, travels).
Micro-adjustment clasp
The Fighter bracelet comes with a very handy micro-adjustment feature where 4 holes in the clasp let you choose the tension of your bracelet, without removing or adding any link.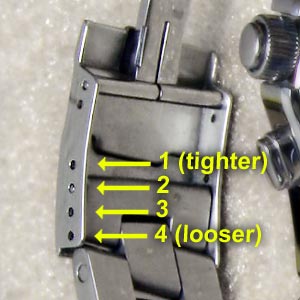 Micro-adjustment holes