You are here: Home page ► Watches ► Breitling Bands ► Pilot
Presentation
The 5-segment Breitling Pilot bracelet was the natural band for the Navitimer lineup from 1991 to 1996. It generally comes fully polished (like the one pictured) whether in stainless steel, solid gold, or two-tone material (steel + rolled gold). Since 1996, the band of choice for the Navitimer series becomes the 7-segment so-called "Navitimer" bracelet (423A).
The 5-row Pilot bracelet is also the default band for the Windrider lineup.

The Breitling Pilot bracelet
The Pilot bracelet is one of the nicest watch bands ever made. It is so well crafted it shows almost no lateral play. It is composed of 120 handmade pieces, explaining its steep price. Much like the Fighter bracelet, it comes with a micro-adjustment clasp (bearing 4 holes).
The one for the Cosmonaute is a stainless steel Pilot (made with 316L, a high grade of SS), model number T4994, with endpieces saying OLD NAV. COSMO. (I think it's called a 350A.)
A full Pilot bracelet comes with 3 removable "U-bolt" links. The deployant clasp itself has a smaller security clasp.
Removing the bracelet
Due to its rigid nature, the Pilot bracelet is not the easiest to remove. If you don't feel skilled enough, better ask your trusted watchmaker.
Push one end of the spring bar inward the SEL;
While the end of the spring bar is "disengaged", push the end link a bit across the lug; keep on pressing the SEL gently with your finger;
Push the other end of the spring bar to the inside; this should come apart.
Be aware that the endpieces may have bits that force you to remove the bracelet in only one direction.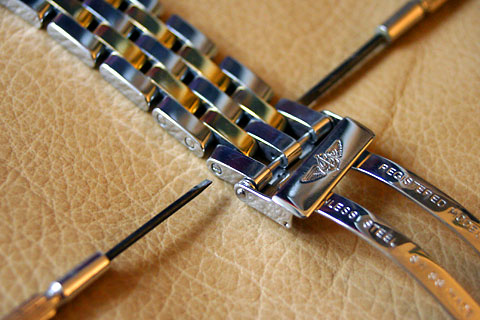 One of the links needs 2 screwdrivers