You are here: Home page ► Watches ► Breitling SuperOcean ► Movement
Meet the Caliber 17
At the heart of the SuperOcean is the Breitling Caliber 17, based on the ETA 2824-2 automatic movement (with quick-set date complication). It's one of the most robust mechanical movements in the whole Breitling offering.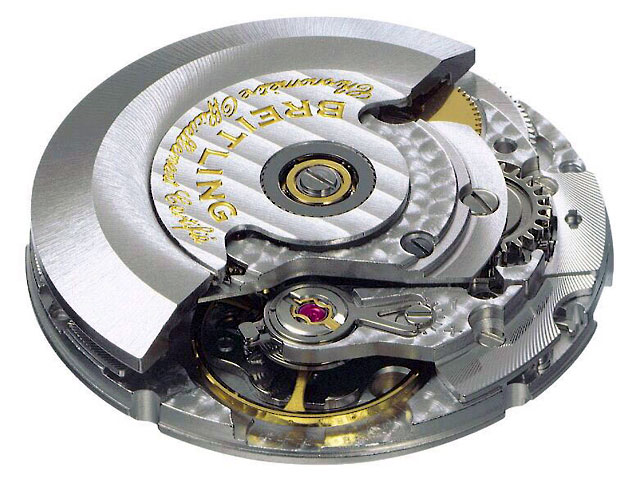 The B17 movement (Photo Breitling)
The Caliber 17 is a high-grade ETA ébauche that has been assembled and tuned by Breitling Chronométrie in La-Chaux-de-Fonds, Switzerland. Though Breitling is usually not talkative about the kind of tuning they do, it is strongly believed that they use chronometer assortments (like Glucidur, Nivarox 1, Nivaflex 1 parts), install those premium balance and main springs, balance wheel, escapement, fine micrometer regulator assembly, and shock deflectors, and submit the movement to the COSC for certification.
At a cadence of 28,800 BPH, it ticks fast, but you should still see 8 discrete movements of the second's hand per second. The B17 is silent and quiet: you probably won't feel not hear the rotor on your wrist. It has a bi-directional winding, which makes it a bit more efficient than mono-directional winding (on a winder, it needs 650 revolutions per day, where some other common calibers need 800). It contains 25 jewels, and has a power reserve of 42 hours.
It's also very accurate, and since Breitling started certificating all their production by the COSC (in early 2000), all the later SuperOceans (including SuperOcean Professional) have their movement tested and certified as Chronometer. To make a long story short, that means that the watch usually performs between -4 and +6 seconds in a 24-hour period.
Check out the reference number of your SuperOcean on your caseback: if it's x1734x it's COSC certified; if it's x1704x it's not. (Information about chronometer certification never appeared on the dial, unlike some more recent Breitlings like my B-1.)