You are here: Home page ► Watches ► Breitling special editions
List of watches
This is a list of all Breitling special edition pages, hosted on this site, for the following models:
Origin of limited and special editions
Breitling gives the opportunity to squadrons, sports teams, and other organizations, to order some of their watches with custom dials and casebacks. The commissionner has to provide the dial design, with the right Pantone colors, and usually order a batch of at least 50 personalized pieces (but this number actually depends on the model).
Such models can come with a special certificate and a unique identification number (for instance: "piece 2486/4000"). Such pieces may have special serial numbers, and/or may bear the total number of pieces produced engraved in the caseback. The rarity of these timepieces adds to its value in the collector's eye.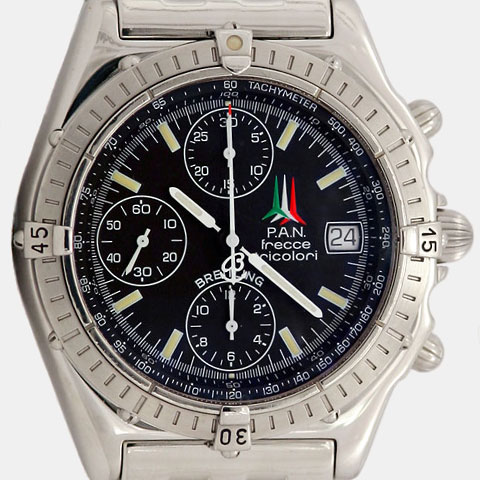 Example of a Chronomat limited edition
Please note that not all models are likely to accommodate a custom dial; this list is maintained by Breitling, along with revised pricing information.
Some other limited and special series are usually produced by Breitling on its own: in this instance, there is no custom logo on the dial, but the material, case finish or movement features can differ from the base model.
More links
For pictures of more models, also see the page Special editions from the Israeli "Club Breitling".