You are here: Home page ► Watches ► Breitling reference numbers
Introduction
Breitling uses reference numbers to uniquely identify its models. Every model inside a production series gets the same reference number, meaning that its design, material, and movement type are exactly the same (aside from the dial color, sometime the hands, and of course the band).
The serial number, in addition to the reference number, ensures that no 2 watches will bear the same numbers, even if they are physically identical.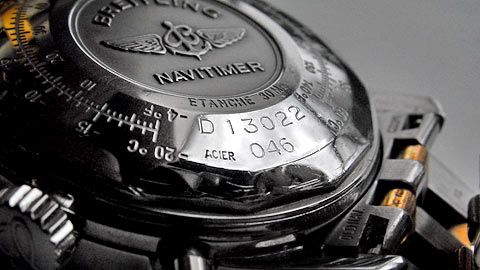 Reference and serial numbers on the case-back of a Breitling Navitimer
Please note that over the years, Breitling had many different ways of choosing reference numbers. The memo displayed below applies to modern watches (from 1991 onwards), and may not be perfectly accurate.
Scheme (since 1991)
Examples of Breitling 6-digit reference numbers:
A

68

3

62

(which identifies the non-SuperQuartz COSC-certified B-1)

A

B01

10

(which identifies the Chronomat 44 with in-house movement)
First digit

Case material(s):

Breitling material codes

| Letter | Material |
| --- | --- |
| A | stainless steel |
| B | SS with 18k yellow gold rider tabs |
| C | SS with 18k rose gold bezel |
| D | SS with 18k yellow gold bezel |
| E | titanium |
| F | titanium with 18k yellow gold rider tabs) |
| H | solid rose gold |
| J | solid white gold |
| K | solid yellow gold |
| L | platinum |
| M | "black" steel |
| P | stainless steel with platinum bezel |
| R | solid red gold |
| V | "black" titanium |
| W | stainless steel with tungsten carbide bezel |

2nd+3rd digits

Caliber number (50 and above means a quartz movement). Update: for the new in-house movements, a B is added right before the caliber number (e.g. B01).

4th digit

In the case of a non–in-house movement: 0 means that it is not COSC-certified; 3 means that it is. (But there are a few exceptions; for instance, a model of non–COSC-certified Astromat has a 4; a model of non-COSC Emergency has a 1.)

5th+6th digits

Short model number
Important: for the in-house calibers B01, B02 etc., the caliber number is actually 3 digits (e.g. AB0131) and there is no information about COSC certification (that is not needed since they are all certified).
The full reference number contains an additional series of numbers (and sometimes letters) to identify the type of bracelet.
For instance, A13352-355 points to a stainless steel Chronomat with a Pilot bracelet.
Some models have a .1 suffix to indicate that some improvement has been made over the previous model. This has notably been seen on 13050.1 Chronomats, 12023.1 Cosmonautes, but the nature of the enhancement has not been formally indicated (in this case, this may be the use of Super-LumiNova pigments).
Search for a reference number
The Breitling reference numbers search engine is an ongoing effort. Its goal is to gather data about previous and existing Breitling models (including, but not limited to, price and date of production).