You are here: Home page ► Watches ► Breitling Cosmonaute ► Case
The case of the Cosmonaute II
Like most Breitlings, the Cosmonaute sports a case made with 316L, a high grade of stainless steel. Plated yellow gold (in the 1960s), solid yellow gold, solid white gold and solid rose gold models have also been produced. For instance, the A12023 weighs 128 grams when attached to the steel Pilot bracelet.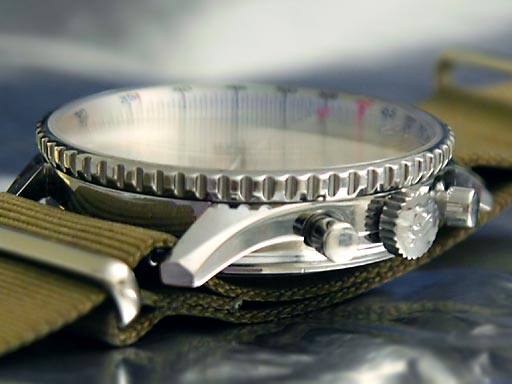 The Cosmonaute II's case
The case, which used to be brushed on the sides for the 1960s models, is now entirely polished. There is a large, non-screw locked signed crown, historically used for manually winding the movement, as well as 2 chronograph pushpieces. The dimensions of the Cosmonaute II are 41.5 mm in diameter, and 14.4 mm in thickness.
The dial of the Cosmonaute II is protected behind a large, domed glass. This shape of glass improves the overall legibility of the slide rule. The bezel can easily be operated even when wearing gloves. (This said, it's still harder to rotate than the B-1's bezel, because of the tight O-rings that protect the case.)
Through its history, the design of the Cosmonaute's bezel and outer slide rule ring have changed a bit: they both were raised, in order to fit large O-rings and achieve a better water resistance. Still, the Cosmonaute II is far from being a diver's—at 30 meters water rating, it's barely splash-proof. During the late 1960s/early 1970s, the "big case" Cosmonautes had a bezel mechanism similar to that of the B-1.
Water resistance
The early Cosmonautes have a snap-on caseback, and aren't waterproof. The "big case" models, thanks to their bezel mechanism, can achieve a 50 m water resistance. The "Cosmonaute II" models are rated at 30 m, like most Navitimers. That should be enough to wash your hands with your watch on, and survive a heavy rain, but one would strongly advise against swimming or bathing with it.