You are here: Home page ► Watches ► Breitling Cosmonaute ► History
The birth of an unusual watch
Astronaut Lt. Commander Scott Carpenter used to wear a Breitling Navitimer during the Korean war. As he was about to participate in a space mission, suggested that a 24-hour watch would make sense in space. He contacted Breitling to produce such a watch.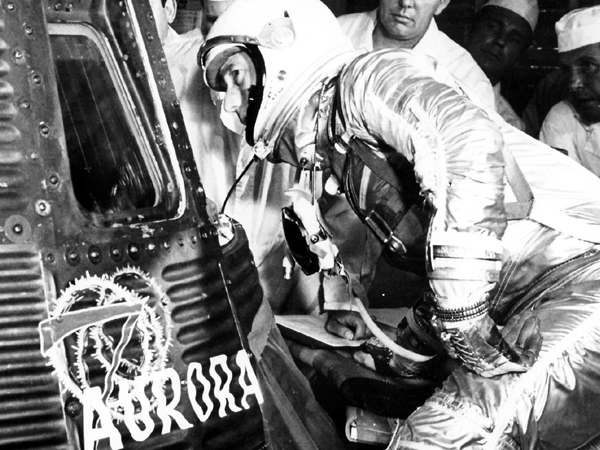 Carpenter stepping inside the Aurora 7 capsule. (NASA photo)
Quoting Chuck Maddox:
NASA's flight equipment buyer visited Corrigan's watch shop in Houston Texas to purchase five chronographs, all of different brands […] in 1961 for testing purposes.
For mission "Mercury-Atlas 7" in 1962, NASA performed tests in order to choose which timekeeper the astronaut would be using inside the capsule; the winner of which was the Breitling Navitimer. (At this stage, I doubt this could be the 24h version.)
In May 24th 1962, Scott Carpenter performed the second U.S. manned orbital space flight while wearing his 24-hour Navitimer, onboard Aurora 7 sitting atop the MA-7 rocket. That certainly made this Breitling the first Swiss watch worn in space.
This watch was damaged by water during recovery (because of the slide rule, the first Navitimers were not water resistant), and replaced by Breitling. The first 24h Navitimer was never seen again.
Soon the watch became commercially available under the name "Navitimer Cosmonaute". Breitling never stopped producing Cosmonautes since then. The current production Cosmonaute shows many similarities with the original model.
Details of the NASA mission
The astronaut had to orbit the Earth three times, and his objectives were:
to know if it was possible to work in space;
to know to what extend things on Earth can be visible from space;
to test prototypes of space food;
to observe phenomena reported by other astronauts.
Some points of the mission could not be accomplished because of meteorological, human or technical problems, but the mission was successful overall, and the astronaut eventually came back safe.