You are here: Home page ► Watches ► Breitling Cosmonaute ► Movement
Introduction
As a "pure" 24-hour watch, the movements used in the Breitling Cosmonaute make one full rotation of the hour's hand in 24 hours. This kind of movement was also used in the Breitling Unitime in the 1960s.
Several movements were used through the years: Venus 178 (1962–late 1960s), then Caliber 14 automatic (late 1960s–?), then Lemania-based Caliber 12 (around 1990 to 2001), then Caliber 22 automatic flyback, and finally the Breitling 02 manual-wind manufacture movement for the 2012 limited edition.
The Breitling Caliber 12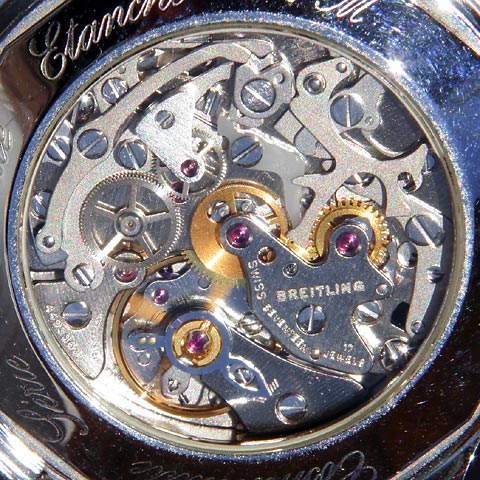 The Breitling Caliber 12 inside an A12023
The hand-wound Breitling Caliber 12 movement is based on the Nouvelle Lemania 1873 (found for instance in the Omega Speedmaster Professional "Moonwatch"), with a 24-hour modification. This movement is sometimes called 1877, but I think the right way to refer to it is as 1873-24, since I found no mention of the number 1877, and 24 is engraved in the movement.
Unlike Omega (in the calibers 861 and 863), Breitling left the Delrin brake of the Lemania 1873 in all their production (including display-back models). This piece, made of special "plastic" or nylon, is used to stop the chronograph runner wheel, and is more durable and reliable, though perhaps less elegant than steel. (The Breitling finish also differs from the Omega version.)
In 2002, the Swatch group decided that Lemania movements would no longer be available for companies outside the Swatch Group (Breitling is privately owned, thus not in that group). Therefore, after this model, the Cosmonaute was propelled by an automatic movement with flyback chronograph, called Caliber 22.
Here are some specifications for the B12 movement:
Base:

Lemania

1873
24-hour cycle
17 or 18 jewels
21,600 BPH
manual wind
integrated chronograph
horizontal compax layout
The chronograph can measure up to 12 hours, and to the 1/5th of a second. (Read more about the Lemania 1873 movement.)
Some people still assume that the movement in this watch has to be hand-wound, because an automatic movement (wound by a weight: a rotor) makes no sense in the absence of gravity. However this remains to be discussed. Actually, automatic watches seem to be used in space without problem.
Different versions of the Caliber 12
Throught its years of service, there have been several versions of the Caliber 12 movement inside the same case.
Brass or nickel wheel?
Some B12 movements have a golden (brass?) chronograph driving wheel, which is the bigger 5-spoked one, while some others have a silver (nickel?) one. Usually, the 18-jewel models have a golden wheel, but this does not seem to be a hard rule.
Seventeen or eighteen jewels?
Some B12 movements claim to have 18 jewels, and some others 17.
Although most (earlier) 17-jewel movements have a nickel colored wheel, and most (later) 18-jewel movements have a brass colored wheel, there are a couple of exceptions, especially during the transition period.
Note that Omega, using this movement (called Omega 861/1861), also stepped up from 17 to 18 jewels around 1996, adding one jewel to the intermediate wheel, which connects the chronograph driving wheel and the central runner. However, in the case of the Breitling Cosmonaute, that coupling wheel seems to sport this added jewel in all cases—either when labeled 17j or 18j. So, was this jewel added elsewhere? Or, was the bridge mislabeled, like we have witnessed for some Omega movements?
* Thanks to Greg, Ron, David, Lowen, Mathieu and Jeram!