You are here: Home page ► Watches ► Breitling B-1 ► Movement
Introduction
Throughout its history, the Breitling B-1 has been using two specifically designed high-performance quartz movements: first the Caliber 68, and then the Caliber 78.
The Breitling Caliber 68
The Caliber 68, used in the early B-1s (1998–2003), is based on the ETA E20.331 movement.
From 2000 onwards, all B-1s are certified Chronometers. For a quartz movement to be certified as a chronometer, it should perform no more than a 0.07 second variation in 24 hours, for 11 different tests. That is 2 seconds a month, 25 seconds a year. Mine is well within these specs at roughly 5 seconds a year, which is no unusual performance for this model. Some non-SuperQuartz models have a very good accuracy as well.
Breitling may change the Caliber 68 from your watch to a Caliber 78, usually at no added cost, during a complete service.
The Breitling Caliber 78
The B78, used in the B-1s from 2003 to 2006, is a thermo-compensated SuperQuartz™, COSC certified (as suggest the words "Chronomètre" on the dial and caseback).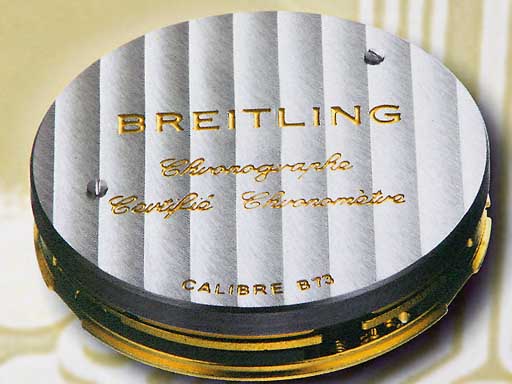 The Breitling B78 SuperQuartz movement. (Photo Breitling)
The base caliber for the B78 is the ETA E20.341 (in the ETA Thermoline series), which uses a single 32 kHz crystal adjusted with a thermistor. It runs with a single CR2320 lithium battery.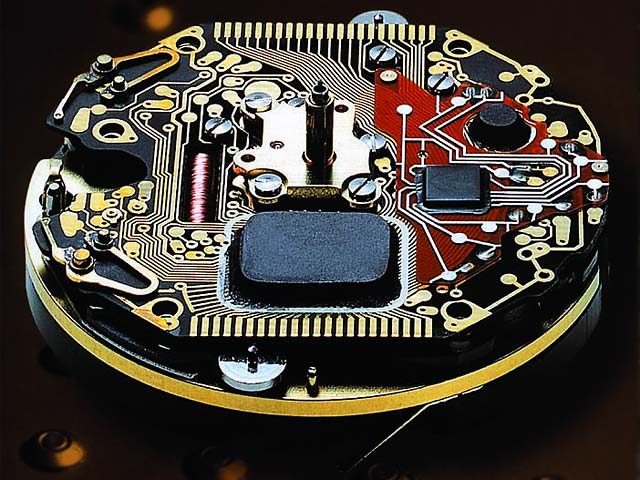 The base movement. (Photo ETA)
You can hear the B78 movement in Ogg format (27 KB, much recommended), or in MP3 format (119 KB, lower quality). Each click is the second's hand moving; the double-click is the minute's hand moving as well (the minute's hand jumps every 30 seconds).
What is thermo-compensation?
(From ETA company literature)
The quartz provides the time base (frequency) for the integrated circuit (IC). A circuit integrated thermometer detects the temperature of the movement. These two signals are fed to the IC which analyses and processes them. The IC regulates the motor pulses (inhibition) according to the information so that the working precision is not affected by temperature. This is known as the thermo-compensation principle.

A standard quartz movement is not fitted with a thermometer. The quartz frequency is directly transmitted to the IC and divided up to 1Hz. The movement rate will therefore not be corrected, despite its internal temperature variations. A thermocompensated quartz movement will be approximately 20 times more precise than a standard one.