You are here: Home page ► Watches ► Breitling B-1 ► Case
The case
The Breitling B-1 has a large and heavy case made of solid 316L (high-grade) stainless steel. The total weight of the watch is 180 grams when attached to the steel Fighter bracelet; case dimensions are 43.2 mm in diameter and 16.5 mm in thickness.
The case is mostly polished, except for the brushed bezel. The dial is protected behind a flat sapphire glass (which does not rotate when turning the bezel), glareproofed both sides.
The B-1 sports a non–screw-locked crown, protected by 2 gaskets and 2 shoulders. Like most chronographs, the B-1 also features 2 push-buttons.
There is a visible access point to the slide rule mechanism on the left side of the case—somehow evoking a helium escape valve.
The caseback
The screw-down caseback is a large turbine-looking echo chamber, used to amplify the sound of the alarm (or other sounds that can be triggered by the various functions). Each fan blade is individually welded to the case-back.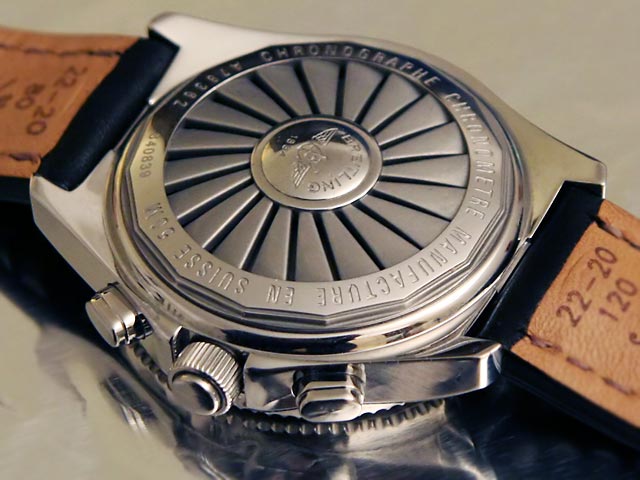 The B-1's turbine-shaped caseback
This is one of the most eye-catching casebacks made by Breitling. That may be the reason why it is unfortunately often copied and found in replicas (along with the serial number A68062).
On the back is engraved some information about the B-1's origin (MANUFACTURÉ EN SUISSE), water resistance (50 M), serial and reference number, movement functionality (CHRONOGRAPHE) and, when applicable, the movement's chronometric performance (CHRONOMÈTRE).
The caseback socket has the shape of a regular quindecagon, and can be opened with a dedicated 15-sided wrench.
Water resistance
The B-1 claims to be water resistant to 50 meters. Thus, it's not a diving watch, but is still well enough suited for a gentle swim, provided that it has been serviced correctly and recently enough. Naturally, make sure not to activate any button while submerged.