You are here: Home page ► Watches ► Breitling B-1 ► Dial
Presentation
The B-1's face has two main characteristics: a dual (LCD + digital) display, and a slide rule. It comes with big arabics (3, 6, 9 and 12) and oversized hands, painted with Super Luminova.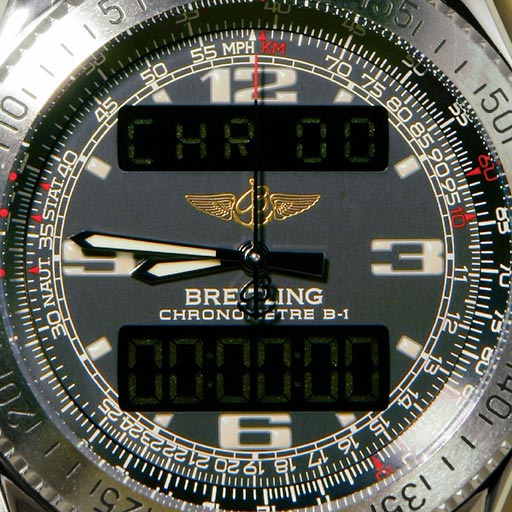 Dial of a slate gray B-1
In addition, it shows the yellow gold painted Breitling logo, and the words: BREITLING 1884 (1998), BREITLING B-1 (1999–2002) before the advent of the SuperQuartz movement, or BREITLING CHRONOMÈTRE B-1 (2003–2006).
The rhodium hands are large and polished, thus most easy to read at a glance. They are filled with phosphorescent material as well. The second's hand is used either for the running seconds, or for the chronograph's seconds, depending of whether you've set the functions to CHR or not. It sports a Breitling logo at the bottom, used to counter-balance the weight.
The B-1's face can come in 3 flavors: blue, slate gray, or black. The latter is the most popular dial color, followed by blue.
Unlike older B-1s, and other older models (see for instance the A12023 Cosmonaute), the A78362 doesn't have the words SWISS MADE at the bottom of the dial (in this case, at each side of the 6 o'clock marker). Instead, it's stated on the caseback MANUFACTURÉ EN SUISSE, which means the same in French. Recently, some Swiss manufacturers stopped mentioning the origin of their pieces on the dial.
Nighttime visibility
Thanks to its generous amount of Luminova, and backlight, the B-1 has an excellent nighttime visibility.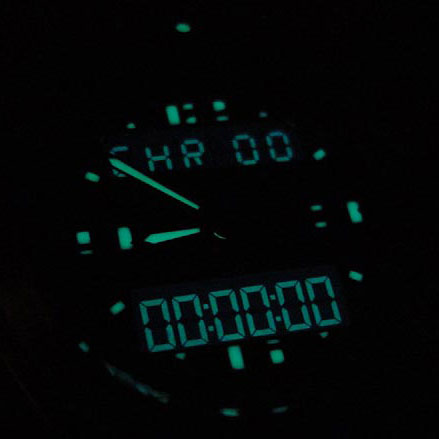 B-1 by night
The backlight is said to be compatible with night optical devices (like NVG). That means that, though you probably won't tell the time through the NVG (because I'm not sure you can focus that close), your goggles won't experience "blooming" (when a point of light appears much larger than it actually is).
Quoting SnapIT, its output, in lux, will not over stimulate the sensors of the NVG. This phenomenon would be annoying for someone who tells the time through NVGs by activating his wristwatch's backlight, and very hazardous if the wearer is a pilot.