You are here: Home page ► Watches ► Breitling B-1
Introduction
Introduced at the beginning of 1998 after two years of design and prototyping, the Breitling B-1 was designed to be the ultimate Swiss tool watch. It belongs to Breitling's "Professional" lineup, and comes with functionalities much appreciated by pilots and travelers.
The following pages aim to form a comprehensive review of the model, with its characteristics, history, and a personal owner's experience with it.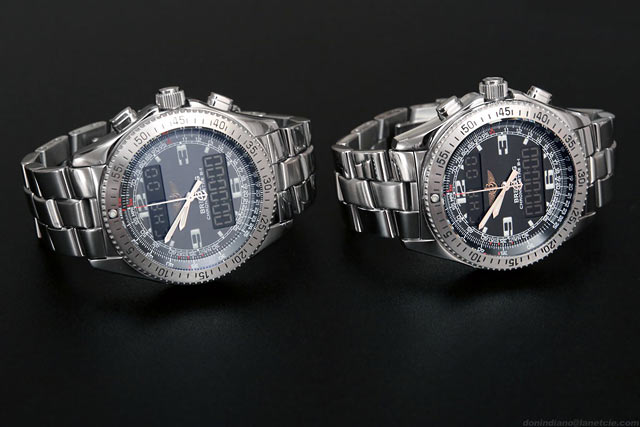 The Breitling B-1 in two colors: slate gray and black
The stainless steel B-1 was produced from 1998 to 2006, under the reference numbers A68062, A68362, and A78362. It was also proposed in solid white or yellow gold, although both not often seen, which have a different letter in the reference number (J and K, respectively). The B-1 succeeded to the Breitling Chronospace, and was replaced by the Airwolf. It follows a tradition of electronic chronographs started by the Breitling Navitimer LED 9106 in the 1970s.
B-1 models history
Some dial and caseback details can help approximately date a B-1 at a glance:
Description of the different models of B-1
Reference number
Production years
Movement
COSC certification
Dial wording
A68062
1998–late 1999
B68 (Quartz)
No
Breitling 1884
A68362
late 1999–2003
Yes
Breitling B-1
A78362
2003–2006
B78 (SuperQuartz)
Breitling Chronomètre B-1
The later models have a date code (e.g. "4103B4") very lightly stamped between the horns on the 6 o'clock side, usually hidden under the bracelet end link.
Note: there are many fake (replica) Breitlings with the reference number A68062 (especially along with the serial number 1111). In such cases, differences with the real B-1 are obvious to the naked eye.