You are here: Home page ► Watches ► Breitling SuperOcean ► Bezel
Usage
The SuperOcean has an unidirectional rotating diver style bezel. Minutes' numerals are engraved clockwise (to keep track of the dive's duration, because of the limitation in breathable air) around it, and filled with black paint.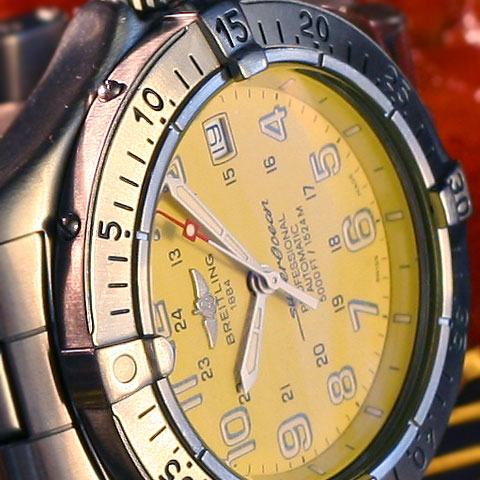 The bezel of a SuperOcean Professional
The bezel sports the 4 "rider tabs"—another Breitling signature design, which was first designed by Mr Schneider (Breitling's CEO) himself back in 1982 for the Chronomat. The rider tab representing 60 minutes sports a phosphorescent dot.
As with many other Breitlings, authentic SuperOceans have a little B engraved near the 55 minutes' mark in the side of the bezel.
It is absolutely possible to use the bezel while immersed.
Construction
There are 8 screws on the sides of the bezel, presumably to hold the rotating bezel in place on top of the case. There are no screws for the rider tabs, meaning that they're part of the bezel and you cannot take them apart. (Unlike the Chronomat, you cannot shift the 15 and the 45, to make a countdown bezel like the B-1 has.)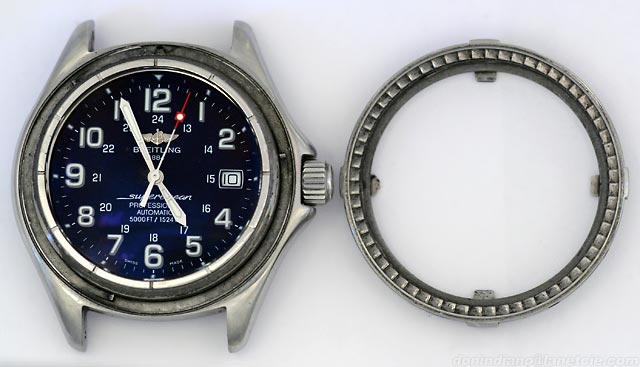 Under the bezel of a SuperOcean Professional
The bezel of the first SuperOceans (17x4x) had a 60-click rotation mechanism, whereas the newer A17360 version has 120 clicks (2 per minute). To that effect, the bezel bears numerous teeth, and the case hold 3 pawls to ensure a unidirectional rotation.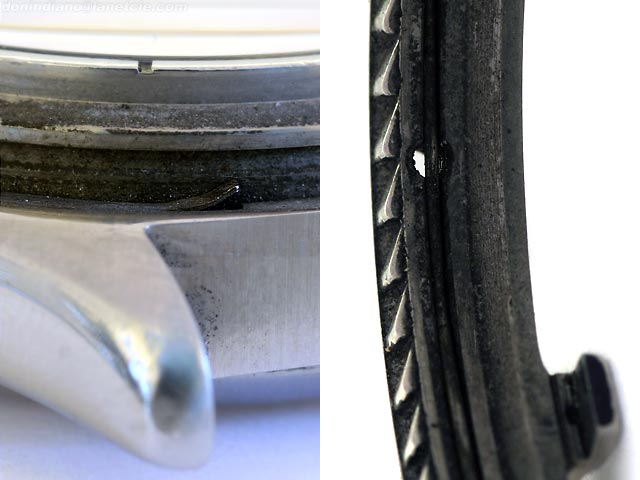 Detail of the ratcheting mechanism
The bezel is attached to the bezel by the means of the 8 screws, which push an inner ring while locking the bezel to the case.