You are here: Home page ► Watches ► Breitling SuperOcean ► Case
The case
The SuperOcean has a very tough case, capable of withstanding pressures up to 150 bars. Its dimensions are 41 mm in diameter and 15 mm in thickness. The SO weighs up to 160 grams with its "Professional" steel bracelet attached.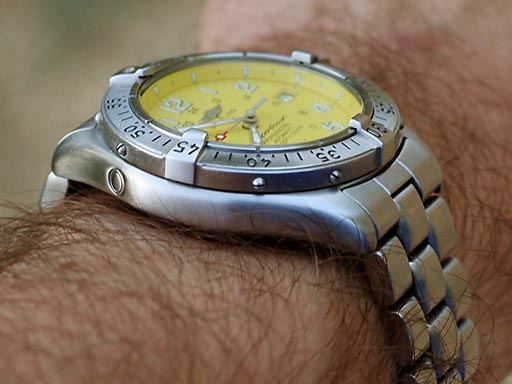 Wrist shot of a SuperOcean on bracelet
The whole case of the Breitling SuperOcean is made of "marine-grade" AISI 316L stainless steel; some rare versions of the SuperOcean (not Professional) included white and yellow gold.
A very thick (3.7mm) domed glass protects the dial. An antireflective coating is applied on both sides, which eliminates 99% of the glare. I think that until 2000, these watches sported a mineral crystal (known for being more resistant to shocks; hardness of 7 or 8 out of 10); the later ones have a sapphire glass instead (more resistant to everyday scratches; hardness is 9 out of 10).
The crown is screw-locked, equipped with triple watertightness gaskets (with a patented design, apparently), and signed with a B logo.
The SuperOcean's case is polished, with a brushed bezel. Only the Breitling SuperOcean Professional came with an all-matt brushed finish.
The cassolette
The gold models (K10040 and J10030) come with a titanium inner capsule, called "Cassolette", to provide the water and pressure resistance that a gold case cannot achieve. These were therefore the first gold watches to be water resistant to 1,000 m (like their steel versions).

The inner Cassolette
In order to keep the case dimensions unchanged, the Caliber 17 was replaced by a slimmer ETA-2892—based Caliber 10, which explains why the reference number is K10040 and not K17040.
The helium release valve
On all SuperOceans, there is an automatic helium escape valve on the left side. While the watch stays deep under water for a long time, helium particles (because they are so tiny) can sneak into the watch through the gaskets. Then, when climbing rapidly enough to the surface, it can create enough pressure difference between the inside and the outside of the case, to make the glass explode.
Thanks to this feature, when the internal overpressure reaches around 3 bars, the automatic safety valve opens and the helium gas can be evacuated.
The caseback
The 3mm-thick caseback is screwed-in. There have been 2 different types of caseback for the SuperOcean:
on the first models (17040 and 17045), the domed caseback has 6 trenches, and opens with a 6-clawed tool;
on the later models (17340, 17345, 17360), the caseback has the shape of a regular quindecagon, and opens with a 15-radii tool; the Chronometer certification statement (

chronomètre officiellement certifié

) is also engraved.