You are here: Home page ► Watches ► Breitling SuperOcean
Introduction
The Breitling SuperOcean is a high end diver's watch. It is highly watertight, sports a diver's bezel, and is powered by an automatic movement.
The following pages aim to form a comprehensive review of the model, with its characteristics, history, and a personal owner's experience with it.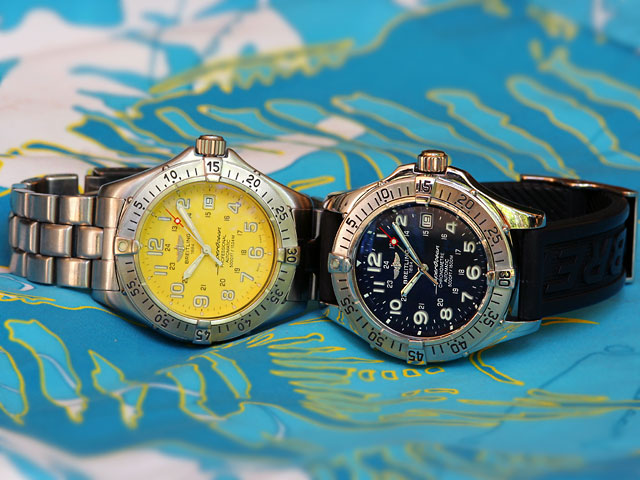 Two Breilting SuperOceans: a yellow A17045 & a black A17360
The first SuperOcean appeared in 1957, marking Breitling's entrance into the realm of diving. In 1995, the Colt SuperOcean was created, to the Navy SEALs' specifications, for its elite combat divers. At this time, it acquired its modern shape (with rider tabs around the bezel), and first was part of the Professional line-up. Breitling later introduced the Aeromarine line-up, where the SuperOcean now stands, along with all their other diver's watches.
A specialized version, the SuperOcean Professional, was produced from 1998 to 2002. The SOP is an all-brushed SuperOcean.
SuperOcean models timeline
Description of the different models of SuperOcean
Model name
Reference number
Production years
WR
COSC certified
Dial logo
Colt SuperOcean
A17040
1995–2000
1,000 m
No
Yellow gold, painted*
Colt SuperOcean Professional
A17045
1998–2000
1,524 m
White gold, applied
SuperOcean Professional
A17345
2000–2002
Yes
SuperOcean
A17340
2000–2002
1,000 m
Yellow gold, painted*
A17360
2002–2010
1,500 m
White gold, applied
2010–
(Model with rubber bezel, not covered in this article)
*: Except for gold models, which have an applied logo of the same color as the case.
In 2006 the SuperOcean was given larger hands, and the tip of second's hand became a red arrow instead of a red box. This did not change the reference number.
In 2008 the SuperOcean was fitted an arrow hour's hand, and the "SuperOcean" logo was painted in red. 8 of its Arabic numbers (out of 11) went from painted to simply outlined, and all 11 numbers were de-lumed. A yellow dial becomes available. The reference number remained the same.
Note: Breitling is known to renew its model catalog frequently—at a pace the author of this web page does not intend to catch up with. Please accept my apologies in the unavoidable event that these pages about the SuperOcean become permanently outdated!